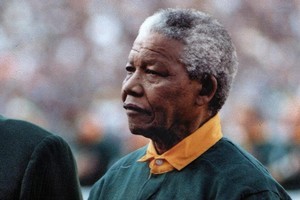 The outcome: The All Blacks lost the final to South Africa, 15-12 in extra time at Johannesburg
Suzie or Nelson? Depending on who you choose to believe, either a waitress or the most famous South African was the pivotal figure at this tournament.
By the time of the final, the All Blacks, with young Jonah Lomu bestriding the event like a colossus, were in prime form.
They walked through their group, with Andrew Mehrtens, possessed of rich skills and a touch of cheek, relishing the hard grounds, running the show.
Then England were taken apart in a 45-29 hiding, the scoreline made respectable by a couple of late English tries.
So what happened in the week of the final? Did Suzie, or whoever, poison the All Blacks?
Most of the players fell ill. Was it simply a case of bad timing or something far more sinister?
Now think about the role of South Africa's Prime Minister, Nelson Mandela, who turned up at the game wearing captain Francois Pienaar's No 6 jersey.
No one considered rugby as a unifying force in the country; it was a plank of Afrikaanerdom, the black and Coloured majority preferred soccer.
But Mandela was able to turn the will of the nation behind the Springboks that day.
There were no tries, and as Joel Stransky and Mehrtens swapped goals and dropped goals, the tension grew.
With one sweet swing of his right boot, in extra time, Stransky sent his second dropped goal high between the posts and the Rainbow Nation rejoiced, winning the Webb Ellis Cup at the first time of trying.
What went wrong? Illness? The Mandela factor? Irresistible force running into immovable rock? Take your pick.
The Breakdown
Pool C
Ellis Park, Johannesburg, 27 May
New Zealand v Ireland: 43-19
Referee: W J Erickson, Australia
Half-time score: 20-12
For New Zealand:
Tries - F E Bunce (1), J A Kronfeld (1), J T Lomu (2), G M Osborne (1)
Conversions - A P Mehrtens (3)
Penalties - A P Mehrtens (4)
For Ireland
Tries - S D Corkery (1), G F Halpin (1), W D McBride (1)
Conversions - E P Elwood (2)
Ellis Park, Johannesburg, 31 May
New Zealand v Wales: 34-9
Referee: E F Morrison, England
Half-time score: 20-6
For New Zealand
Tries - M C G Ellis (1), J A Kronfeld (1), W K Little (1)
Conversions - A P Mehrtens (2)
Penalties - A P Mehrtens (4)
Drop goals - A P Mehrtens (1)
For Wales
Penalties - N R Jenkins (2)
Drop goals - N R Jenkins (1)
Free State Stadium, Bloemfontein, 4 June
New Zealand v Japan: 145-17
Referee: G Gadjovich, Canada
Half-time score: 84-3
For New Zealand
Tries - R M Brooke (2), S D Culhane (1), C W Dowd (1), M C G Ellis (6), P W Henderson (1),A I Ieremia (1), R W Loe (1), G M Osborne (2), E J Rush (3), J W Wilson (3)
Conversions - S D Culhane (20)
For Japan
Tries - H Kajihara (2)
Conversions - K Hirose (2)
Quarter-final, Loftus Versfeld, Pretoria, 11 June
New Zealand v Scotland: 48-30
Referee: W D Bevan, Wales
Half-time score: 17-9
For New Zealand
Tries - F E Bunce (1), S B T Fitzpatrick (1), W K Little (2), J T Lomu (1), A P Mehrtens (1)
Conversions - A P Mehrtens (6)
Penalties - A P Mehrtens (2)
For Scotland
Tries - S Hastings (1), G W Weir (2)
Conversions - A G Hastings (3)
Penalties - A G Hastings (3)
Semifinal, Newlands, Cape Town, June 18
New Zealand v England: 45-29
Referee: S R Hilditch, Ireland
Half-time score: 25-3
For New Zealand
Tries - G T M Bachop (1), J A Kronfeld (1), J T Lomu (4)
Conversions - A P Mehrtens (3)
Penalties - A P Mehrtens (1)
Drop goals - Z V Brooke (1), A P Mehrtens (1)
For England
Tries - W D C Carling (2), R Underwood (2)
Conversions - C R Andrew (3)
Penalties - C R Andrew (1)
Final, Ellis Park, Johannesburg, 24 June
South Africa v New Zealand: 15-12
Referee: E F Morrison, England
Half-time score: 9-6
For South Africa
Penalties - J T Stransky (3)
Drop goals - J T Stransky (2)
For New Zealand
Penalties - A P Mehrtens (3)
Drop goals - A P Mehrtens (1)
1995:
Video: Great World Cup moments - 1995
Setting the scene: The drop goal that helped heal a nation
Doubt and drama on road to '95
Shine of top ref's gold day marred
Tournament action: Springboks' first time unites divided nation
The outcome: Mandela factor unified an emerging nation
How we won it: South Africa - Magic of coaching a world-class team
All Black memories: 'We had the weapons to win it'
Tournament star: Jonah Lomu - The try scoring blitz
Legendary characters of the World Cup