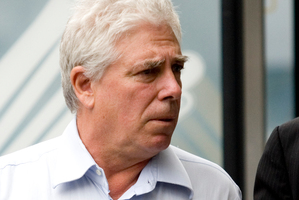 Former high flier David Henderson has walked free and unpenalised after admitting to breaching his bankruptcy conditions.
He pleaded guilty to breaching the strict terms when he jetted to Spain for a luxurious holiday the day after being declared bankrupt, owing $3.7 million to Inland Revenue.
Henderson's lawyer said the failed developer couldn't help but take the trip as it was a surprise present from his 23-year-old girlfriend.
This week an Auckland District Court judge decided a conviction would "outweigh the gravity of the offence".
The maximum punishment was one-year jail time or a $5000 fine, but Henderson, 58, was discharged without conviction.
He said he now hoped to be allowed to forge ahead with a business proposal he had discussed with the Official Assignee.
Henderson would not be drawn on details but said he was frustrated at not being able to earn money.
Bankrupts are barred from running or directing companies, unless they have approval from the Official Assignee.
At the sentencing on Thursday, the judge said a conviction would imply a sense of dishonesty and damage Henderson's reputation. His early guilty plea was also considered.
Henderson, a property developer best known for the Hilton development on Auckland's waterfront, had initially been charged with leaving the country without the permission of the Official Assignee and misleading the Official Assignee by saying he was in Australia, not Spain.
The second charge was withdrawn. The sentencing judge said: "It wouldn't matter if he was in Australia or Timbuktu. Overseas is overseas."
The judge also joked the defence submission, compiled by Henderson's lawyer Daniel Grove, was so extensive a "Brazilian rainforest" must have been cut down for the paper.
Grove argued a conviction would be heavy-handed because Henderson was not formally advised he had been declared bankrupt until four days later.
Henderson spent 16 days overseas, in Sydney and cruising the Spanish coastline on the superyatch Lady Tatiana, owned by millionaire David Kimpton. The trip was organised by his girlfriend Alex Scott as a surprise for their anniversary. A signed affidavit from Scott stated she paid for the holiday with her own money.
Grove said Henderson had been in "constant" communication with the Official Assignee once he found out his travel was against the law.
Henderson also apologised to the Official Assignee when he returned.
The legal team for the Ministry of Economic Development, which oversees bankruptcies, opposed the discharge without conviction.