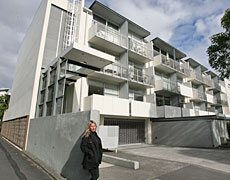 Ponsonby apartment owner Tanya Stirrup says her body corporate has gone "consultancy crazy", incurring a $236,500 bill for leaky-building investigations.
The Auckland mother owns a one-bedroom unit in the Pulse Apartments at 80 Richmond Rd, where the body corporate's draft budget for leak probes and legal fees is rising without major repairs beginning.
Owners are being billed for a range of weathertightness investigations, with some receiving threatening letters from a law firm saying that unless money is paid, legal action will begin.
"We've just been going from one consultant to another and guess what: it's not getting fixed. My accountant is advising me to just walk away from the apartment because it's not worth the money," said a distressed Ms Stirrup.
Ms Stirrup, who rents out her unit, said she had lost faith in the body corporate's ability to handle issues at the block and she believed money had been wasted.
She bought the unit in 2003, engaging building inspectors to prepare a report, which failed to alert her to weathertightness issues.
Just a fortnight after she bought it, leaks were discovered at her place. "Only some units leak but everyone has to pay," Ms Stirrup said.
Six years later, only minor repairs had been made to the large block, estimated by various parties to cost $1.5 million-$6 million to fix.
The body corporate committee has denied Ms Strirrup's complaints and says it is making good progress, keeping owners well-informed about plans for remediation of the building.
A majority of residents voted in favour of consultants examining the building, the committee said.
Money had not been wasted but was sought to pay specialist building firms employed to conduct thorough studies of the defects. Some parts of the building have also been fixed, the body corporate said.
Ms Stirrup said she was concerned about the huge bill and estimated about five of the 66 owners cannot pay.
She worried about the lack of clear direction for leaky-building owners.
"There are no procedures or pathways in place. I'm not asking the Government or the taxpayer to fork out, but there should be some procedure for people to follow. We just pay money right, left and centre," she said.
Tim Rainey, a lawyer specialising in leaky-building issues, said it was relatively rare for body corporates to bankrupt owners and he knew of only one other case where it had been threatened.
The Pulse bill seemed high, he said.
"I'd be very disappointed if people got themselves into a position where there had not been some workthrough to look after the owners. You have to bring everyone on board with these things."
Some owners in multi-unit properties shunned meetings and documents but they did this at their peril, Mr Rainey said.
"The greatest strength of a body corporate lies in unity, and taking action is very much a last resort."
By Anne Gibson @Anne Gibson

Email

Anne