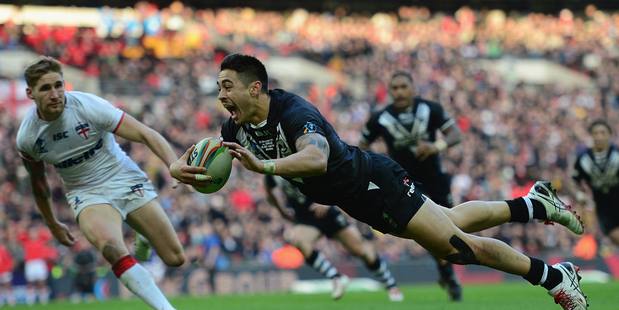 With 60 seconds remaining in this morning's semifinal, the Kiwis trailed England by four and were down to their penultimate tackle. Their World Cup defence looked all but over. What followed was a series of erratic events, each combining to lay the ground for Shaun Johnson's miracle try.
Read: Three key questions from the match.
79:00 - Sonny Bill Williams, after receiving the ball from dummy-half, hits it up to the 30-metre line to set up his side for a final tackle option. Or so he thought. Instead, George Burgess needlessly cops Williams with a high shot around the face, leaving referee Ben Cummins no choice but to blow for a penalty.
79:15 - Isaac Luke takes a quick tap and wriggles his way forward before being brought to a halt 20 metres out, leaving Kevin Locke to play the ball.
79:25 - A huge hit up from Frank-Paul Nuuausala on tackle two puts the Kiwis seven out, directly in front of the goalposts and in prime position for a shot at the line.
79:30 - With a massive lineup away to his right and numbers to burn to his left, Luke darts forth from dummy-half in what appears an ill-advised option. The hooker burrows his way to within a metre before being subdued by three English tacklers. With the home side wary of another attack around the fringes, half the English defence is in close vicinity of the goalposts.
79:35 - Nuuausala, at dummy-half, throws a high, looping pass away to his left, where Johnson is waiting to receive about 15 out as the English line defence closes in.
79:36 - Kevin Sinfield over-commits himself towards the trajectory of Nuuausala's pass, hoping for a possible intercept or, at least, to smother Johnson ball-and-all.
79:37 - The Kiwis halfback, however, anticipates the impending contact. He steps to the left and cleanly around his man, before bursting into space near the 10-metre line.
79:38 - As England's compact defence struggles to adjust, Johnson instinctively steps off his left foot. He uses the momentum of the covering Burgess to make him miss. He's now metres out without an Englishman in sight.
79:39 - Johnson easily shows the requisite gas to accelerate to the line and dive over for the match-levelling try.
79:45 - The Kiwis go crazy. Cummins signals the try before almost being bowled over by Johnson's marauding teammates.
80:00 - As the hooter sounds, Johnson starts inhaling some big breaths to prepare himself to win the game. His teammates, helpfully, are still piling in with a steady procession of hugs.
80:00 - Johnson soon composes himself and places the ball about 20 metres in from touch and 15 from the line. It's a handy angle but would be easy to miss, given the circumstances. But Johnson cements himself in Kiwis folklore, slotting it straight down the middle and raising an arm before the ball is even through. If his teammates were happy before, they're positively delirious now. And why wouldn't they be? The Kiwis will meet Australia in next weekend's final, courtesy of a miracle.
- APNZ