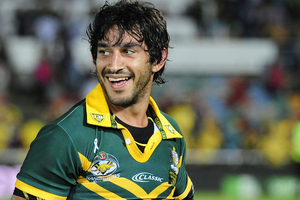 Johnathan Thurston has admitted he considered playing for the Kiwis nine years ago after he was approached by goalkicking coach Darryl Halligan.
The Kangaroos five-eighth has told The Daily Telegraph that he strongly considered pledging his allegiance to New Zealand and play in the 2004 Tri-Nations series.
Thurston would have been eligible to play for the Kiwis through his father Graham who is a New Zealander.
"I spoke to my family, Mum and Dad, and I did have to consider it," Thurston told the Australian newspaper.
"Darryl Halligan called me because Dad was a Kiwi. I was honoured someone like him would ask me. But in the end I decided to stay and pursue the dream of playing for Australia."
Instead Thurston made his debut for Australia two years later, coming off the bench in a 50-12 thrashing of the Kiwis.
He'll play his 24th test tomorrow night, his 16th against New Zealand, and has suffered just one defeat in the Kangaroos jumper - the 2008 World Cup final.
- nzherald.co.nz