Mateo can still spark mayhem against opposition defences when he's given suitable width, space - and anonymity.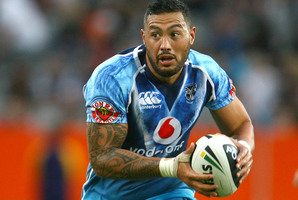 A coach in the west Sydney junior grades once said the secret to getting the best out of Feleti Mateo was to convince him he was a ball-playing second rower rather than a playmaker. He maintained the latter term placed too much pressure on his talent.
Little has changed. Mateo still sparks mayhem against opposition defences when he's given suitable width, space and anonymity. Yet it's a struggle to ignite such hi-jinks when the Warriors have spent three matches back-pedalling, tackling and standing behind the posts.
Three games in and the Warriors have yet to score any points in the first half of a match. Some say they need to play Mateo from the beginning to open up scoring opportunities. Another theory - the one holding sway at present - says they should keep Mateo out of the early hurly-burly, when both teams are at their freshest and most watchful, letting him into the fray when matters have loosened up a little.
It hasn't worked so far, although it's not just to do with how they play Mateo.
The team is clearly stuttering on attack right now and is spending most of their time going backwards. The Warriors' points differential of -56 was the worst of any side ahead round four. They have conceded a plague of tries, 15 to be exact, ahead of tomorrow's home match against the Cowboys.
It's far from perfect timing for Mateo. The 28- year-old's contract ceases at the end of the season but he wants to stay at the Warriors. He hopes to have a decision within a fortnight.
This season has hardly been CV material thus far. The 143-game first-grade veteran has played off the interchange bench, featuring in just 167 out of a possible 240 minutes of action. He's flicked a few offloads but it's hard to shine in a team which hasn't scored in the first half.
"Negotiations with the club are going back and forth," Mateo says. "Hopefully we can get something sorted, I'm keen to give them my loyalty. I love this club, the players and the direction we're going."
"We're still very interested," says Warriors chief executive Wayne Scurrah. "Feleti indicated he wanted to take his time to consider his options. There's quite a lot of deliberation on how we develop the squad for next season but we've had nothing but positive feedback with Feleti and his agent [David Riolo].
"He's played in a couple of grand finals [one for the Eels and one for the Warriors], he's a fringe rep player, he's well-liked off the field and offers a lot of natural leadership," says Scurrah.
Mateo says leadership is one area he's keen to develop: "It's my third year at the club, so I'm willing to chuck my ten cents in at team chats. Hopefully the team respects my opinion. I'm trying to be a lieutenant to Simon [Mannering]."
One way Mateo can do that is through his decision-making, especially in the offload.
"Picking when you can free your arm and where the defensive line is weaker are important factors but you can only produce such second phase play if the team is going forward. Like [Warriors coach] Matt Elliott said, we tend to freeze.
"We need to look at being more attacking. Last week [a 28-4 loss to Cronulla], it felt like all we did was tackle. It was a tough video to watch. But, remember, last time we lost three games straight [2011] we went on to the grand final.
"Hopefully we can create some decent second phase. I look for opportunities where defenders tackle low or when you bounce off those who lead into tackles with their chests rather than their shoulders. You have a split second to make a call."
Former Warrior James Maloney showed how it works when running off Sonny Bill Williams for the Roosters a fortnight ago at Eden Park. It's a case of big men putting little men into gaps, rather than the more traditional vice versa. Mateo needs to reignite that with the likes of halfback Shaun Johnson.
Former Warriors assistant coach Tony Iro still believes Mateo can reinvigorate the maligned side.
"I know he's drifted in and out of the starting team but I think he's one of those players who, when he's right, can win games single-handed. There's only about a dozen of those players in the competition. He'll be in demand at other clubs as a genuine game-breaker."
Mateo accepts his old coach back in west Sydney made sense recommending his best place was in the second row.
"I'm happy there, despite being in the halves when I was younger. It suits me as long as I'm in the 17. I probably spend just as much time on the field as if I was in the starting 13."