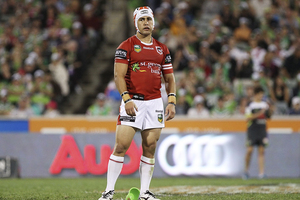 St George Illawarra's 13-year hoodoo in Canberra continues after a super Reece Robinson double sparked the Raiders to a 30-17 victory, their first of the NRL season.
Robinson proved life after fullback Josh Dugan won't be so hard for the Green Machine, scoring two tries and involving himself in another in front of a crowd of 12,115 at Canberra Stadium.
Robinson, who scored three tries against St George Illawarra last year in Canberra, was praised by coach David Furner after the match who said the 25-year-old managed to deliver for the Raiders time and time again.
"We didn't hold a lot of space for him there to really open up the defence, but look, that was a super effort," he said.
A deft chip kick from Dragons halfback Nathan Fien had winger Brett Morris open the scoring in the 17th minute when he both caught and placed the ball whilst in mid-air.
After a shaky start the Raiders' ball security improved significantly, starving the Dragons of possession and completing six consecutive sets midway through the first half.
That sustained pressure helped the Raiders hit back when Robinson claimed a 'Steven Bradbury' try in the 31st minute, watching three players fall down in front of him to comfortably place down a Blake Ferguson grubber in the corner.
Ferguson, who only narrowly avoided the same fate of Dugan two weeks ago, put on a brilliant performance to validate his late inclusion into the side by the player's leadership group.
"We made it clear to him that his actions were going to speak louder than his words," captain David Shillington said after the match.
"I thought he was great and he's followed through with what he said."
Robinson scored his second try of the match from dummy-half three minutes after halftime when centre Jarrod Croker was pulled down just short of the line following a 60m effort.
Both sides continued to trade punches, until Robinson broke down the left flank from a kick return with three minutes to go to give Croker his second try of the match and seal the win.
Dragons coach Steve Price may have extra cause to feel aggrieved with his side's third straight loss after two controversial video referee decisions, one of which saw Morris denied a try in the third minute due to a ruling that Raiders five-eighth Josh McCrone was obstructed in the lead up.
"I'm certainly not going to go down that path, I'm not that keen to cop a fine, but I'm sure everyone saw that," Price said after the match.
"They would be momentum changes but at the end of the day we're not good enough to overcome that at the moment."
- AAP