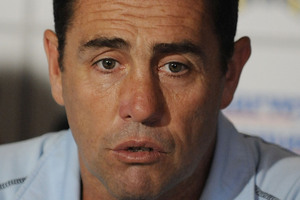 An emotional Shane Flanagan has been reinstated as Cronulla coach, but the four other football staff members sacked by the besieged NRL club won't be getting their jobs back.
Flanagan was stood down as head coach before the season kicked off after an independent review found he and the four sacked staff had not properly reported issues to the club's board from the 2011 season which are now the subject of an Australian Sports Anti-Doping Authority investigation.
New board chairman Glenn Coleman said yesterday that a second review by consultancy firm Grant Thornton found that Flanagan should be immediately reinstated and he would be back at the helm for the Sharks' home clash with the Warriors tomorrow.
But Coleman said the axing of football manager Darren Mooney, club doctor Dave Givney, head trainer Mark Noakes and physio Konrad Schultz was final.
The four have all expressed bemusement at their sacking and Givney has indicated he may take legal action.
The 47-year-old Flanagan met the board yesterday morning and later said he now expected to see out the rest of his two-year contract, regardless of what might come of ASADA's investigation - which has up to 14 Sharks players under a cloud.
Flanagan, who struggled to contain his emotions at times during a media conference alongside Coleman, said his reinstatement proved he did not turn a blind eye to alleged malpractices at the club.
"I'm here to coach. I've got a two-year contract with the club," Flanagan said.
"The investigation that has gone over the last couple of weeks has cleared me of anything to do with this and I've got a two-year contract.
"There's no clauses in my contract and I'll be moving forward and coaching this football team."
Flanagan also denied an approach had been made by St George Illawarra to secure him.
Coleman said the board and Flanagan agreed that the head coach would need to improve management practices going forward.
Flanagan said he held no resentment towards the board over his suspension.
"No, not at all. The board had a duty and had to do what they've done and get all their information," he said. "I've just got to be grateful for that."
He said the sacking of his former colleagues was out of his hands.
"It's been a tough couple of weeks," he said.
"It's been terrible. It's been hard on families, friends, players ... I'm glad we've sorted this out.
"My focus now is on the players, Sunday's game and the season ahead."
- AAP