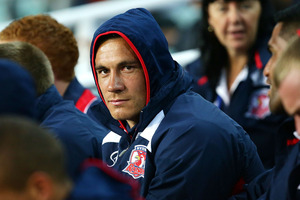 Sydney Roosters players expect to run out with superstar recruit Sonny Bill Williams in the NRL's season opener against South Sydney on Thursday despite continued contract issues.
Just six days out from the Allianz Stadium clash, and with the Roosters hoping for a sellout on the back of heavily promoting Williams' return to the code, his one-year deal has yet to be ratified by the NRL.
The NRL's salary cap auditor Ian Schubert is reportedly waiting on more paperwork to officially tick off the contract despite the former All Blacks centre announcing his switch last November.
And the news will no doubt have Roosters fans fretting that his debut against bitter rivals the Rabbitohs is in jeopardy.
But centre Michael Jennings, no stranger to contract dilemmas, prop Martin Kennedy and young winger Daniel Tupou on Friday all said they weren't nervous about the contract situation.
"From what I know, he's playing," said Jennings, who signed a four-year deal with the Roosters in January after a strained relationship with Penrith's hierarchy.
Sydney Roosters chief operating officer Brian Canavan is set to hand over the requested documentation in the next few days and doesn't expect there to be any problems with the contract registration.
However, it has the potential to be unsettling for the Roosters, who are legitimate premiership contenders after a recent recruitment frenzy and impressive trial wins over Manly and the Wests Tigers.
As well as Williams and Jennings, five-eighth James Maloney and back-rower Luke O'Donnell are set to make their club debuts against Souths.
Already a concern for the tri-colours was the fact Williams didn't play in either trial after being bashed around in the final few rounds of his WBA heavyweight bout in Brisbane just three weeks ago.
- AAP