Bulldogs finally lose patience with the off-field dramas of their star fullback Ben Barba.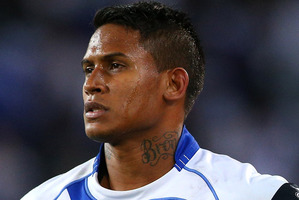 It wasn't the straw that broke the camel's back, but it was the final indicator that Ben Barba's head space wasn't prepared for an NRL season.
Taking part in his one and only trial match for the Bulldogs in Goulburn last Saturday night, Barba - the Dally M Medal winner and NRL poster boy who was stood down indefinitely by the club yesterday - told a team trainer he wanted to come off because he wasn't really interested in playing. It was a poignant moment.
For all his off-field issues, the rugby league field had always been a place of solace for Barba, a chance for him to escape his private troubles.
Never was this more evident than with his stunning hat-trick in the All Stars match this month, a performance which many believed was a portent to an imminent State of Origin call-up for Queensland.
That dream now appears in tatters, with Barba to seek help for a multitude of behavioural issues stemming from the breakdown in his relationship with Ainslie Currie, the mother of his two children.
He was in tears on Sunday as he met Bulldogs coach Des Hasler and CEO Todd Greenberg, who had been aware of his troubles for some time.
"It became quite serious to me over this weekend," Greenberg said. "We've been talking to him a lot ... Over the last 24-48 hours it became significant enough for me to take the action [of suspending him].
"[It was] not so much an incident, just a manifestation of a lot of issues that have been in his life over a period of time."
The Bulldogs have invested many hours in dealing with Barba's emotional shortcomings over the years.
A junior star, he once stunned club officials during an under-20s match when he was so upset with a decision he walked off the field midway through a competition game.
There have also been rumours of bust-ups with teammates, the latest an allegation by the Nine Network of a row with fellow squad member Tim Browne at training last week.
Yesterday, Barba, 23, apologised for letting down the club and his fans, but said he had come to a point where he had to face his demons head on.
"I'm incredibly sad to be stepping aside as I've been so blessed with what's happened to me over the past few years," he said in a statement.
"But I feel as though I would be wearing a mask if I didn't confront the matters I've been dealing with until now. I feel it is best to deal with these problems front on and I believe that by doing so, this will make me a better person and player."
- AAP

Play Virtual & Fantasy League
Test your tipping skills with Virtual or create your dream team with Fantasy NRL and be in to win a slice of over $7,000 in prizes.
Be part of the game and sign up now.