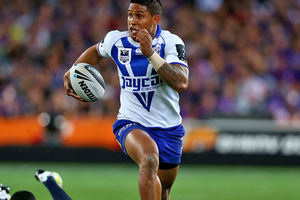 Bulldogs fullback and 2012 Dally M Medal winner Ben Barba has been suspended indefinitely by the club.
The decision to suspend Barba comes after the Bulldogs were informed of a number of behavioural issues, a club statement said.
"Whilst we all know the undoubted on-field attributes and abilities that Ben displays, we must always maintain our focus on the more important issues of personal development and accountability," Chief Executive Officer Todd Greenberg said.
"It is our hope that the media and the many rugby league fans understand and respect the need for privacy in order for Ben and his family to make the relevant adjustments that are required for him to return to the playing field."
Barba was set to take part in the official NRL launch on Wednesday night.
The 23-year-old said he was "incredibly sad to be stepping aside" and was "seeking help for personal issues".
"Today is a very difficult day for me as I feel I've let my family, children, club and supporters down," Barba said in a statement.
"My issues relate to seeking help for personal issues that I face day to day.
"I'm incredibly sad to be stepping aside as I've been so blessed with what's happened to me over the past few years, but I feel as though I would be wearing a mask if I didn't confront the matters I've been dealing with until now.
"I feel it is best to deal with these problems front on and I believe that by doing so this will make me a better person and player in the future.
"This will be a step by step process for me and whilst I hope to return to football soon, I hope that through this next period you can respect my privacy so that sooner rather than later I can return to playing rugby league as best I can.
"When I do, I hope that everybody sees a better person."
Barba won the NRL's top player award after scoring 21 tries in the 2012 season helping the Bulldogs reach the Grand Final which they lost to the Melbourne Storm.
The Bulldogs open their season on March 9 against the Cowboys.
- nzherald.co.nz

Play Virtual & Fantasy League
Test your tipping skills with Virtual or create your dream team with Fantasy NRL and be in to win a slice of over $7,000 in prizes.
Be part of the game and sign up now.