Which tours rate as the most noteworthy of the main New Zealand football codes? Chris Rattue investigates.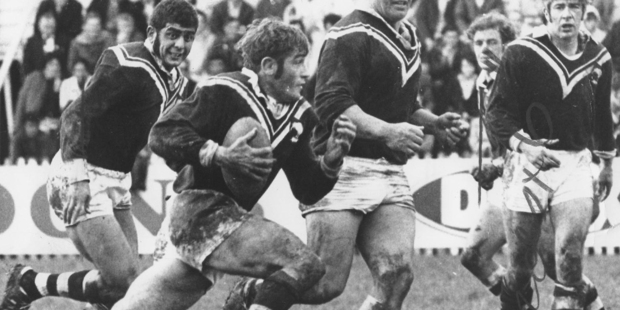 The death last week of Lory Blanchard, coach of the 1971 Kiwi league team, raised memories of a bygone era when major tours dominated our sporting life. Blanchard, aged 88, died suddenly in Christchurch, a year or so after attending a reunion of the famous '71 squad.
Blanchard was a front rower who played 60-odd games including 16 tests for the Kiwis in the 1950s.
But it was his tenure as coach, especially in 1971, that gave him a special place in our sports history.
After belting the star-studded Australians at Carlaw Park, those Kiwis created history with the first series win in Great Britain, then capped the tour by winning in France.
Among the Kiwi stars was the young halfback Ken Stirling, whose courageous performances were to become one of the few beacons of rugby league hope during the 1970s.
"It was an incredible experience. We were away for three-and-a-half months.
The longest tour I went on after that was barely six weeks," the 63-year-old Stirling said, when the Herald rang him at his Warkworth home seeking his recollections.
The 1971 team played 26 matches in Britain and France, and after a gradual reduction the curtain was brought down on long northern tours in 1993.
Stirling remembered Blanchard as a man who "didn't over-coach" and left many matters to the team. "Lory was a nice guy and a good coach. He definitely wasn't like Morrie Robertson, my coach at Ellerslie - Morrie was terrific but he couldn't coach these days because he wouldn't be allowed to talk to the players the way he did back then."
The 1971 Kiwi team used three hotels in Britain - although they travelled more for the shorter French leg - and would walk a few kilometres to training venues each morning.
"There were buses to catch but we would have had to pay ourselves," says Stirling. "There were a lot of characters on that team yet we got along really well and Lory could take a lot of credit for that. There were a few characters on other teams I was in and those teams didn't get along."
Stirling can cherish the memories by ear - his parents Bluey and Joyce made tape recordings of Murray King's radio commentaries for the three British tests.
The first test recording draws a chuckle from Stirling, whose dad's own Kiwi career was cut short when the 1939 tour of Britian was aborted because of the outbreak of World War II.
Ken Stirling was the 1971 Auckland player of the year and his parents accepted his award at a dinner just hours before the test victory in Salford. Bluey, having celebrated his son's award vigorously so to speak, plonked the microphone on the kitchen table of their Devonport home.
"You not only get the commentary, you hear their comments as well," says Stirling, whose parents have passed away.
"At one point, dad says, 'I'll kiss all you sheilas if we win this test'. For the next two tests, he put the microphone nearer to the radio."
Stirling said news of Blanchard's death brought memories flooding back. "It's very sad - he really was a nice guy," he says.
"A major tour like that becomes a huge part of your life memories and I almost feel sorry for the players these days who miss out on that."

Eight Memorable New Zealand Football Adventures (Outbound and Inbound)
The All Golds 1907/08
The original Kiwi league team. The triumph and tragedy of Albert Baskiville, tour organiser and player, is worthy of an epic film. A groundbreaking 46-match adventure to Australia, Ceylon and Britain established the sport, although our league administration never recovered from the remarkable Baskiville's death on the way home.
The Invincibles 1924/25
The All Blacks' perfect 32-win record further shaped a nation's rugby expectations, and thus shaped a nation. The tour of the British Isles, France and Canada involved five months of footy action, plus ocean travel, with George Nepia playing every game. The Invincibles nickname has rung loud down the ages.
The 1956 Springboks
History and hysteria. New Zealand lay in wait, itching - to put it mildly - for revenge after the 1949 humiliation in South Africa.
The All Blacks duly delivered a first-series victory over the mighty Boks, nailed by a "buggered" Peter Jones' try in front of 61,000 at Eden Park. A tour of dark on-field deeds and the bright lights of victory.
The 1971 Lions
A rugby winter with a summery feel, the Canterbury bloodbath notwithstanding. Carwyn James' tourists twinkle-toed from victory to victory driven by legends in the making. A first-ever series triumph was claimed before an almost adoring New Zealand public. A limited All Black team put up a reasonable scrap in retrospect, while Ian Kirkpatrick scored THAT try.
The 1971 Kiwis
Ruled the rugby league world with victories over Australia, Great Britain and France, the supercharged beginning to an ultimately gloomy Kiwi league decade. The northern tour became a legendary venture, of many defeats but victory when it counted. Old school hard nuts - ie Doug Gailey - were blended with the new-agers including precocious Dennis Williams. They made it so right in 1971, before it went so wrong.
1981 Springboks tour
Adventure hardly describes a two-month tour that provided a much longer hell. Anti-apartheid protests and all the ramifications and reactions completely overwhelmed the rugby. From barbed wire, to brutality, to flour bombs and all strongly made points in between, these constituted some of our fiercest yet finest hours.
The 1982 All Whites ...
... or the 1981/82 All Whites to be more accurate, who took the country on a ride of many parts and places that added up to a magical whole and a first-ever place in soccer's World Cup finals. Names such as Adshead, Fallon, Wilson, Woodin, Rufer, Turner, Sumner, Almond and Cole entered the national dialogue. The remarkable 15-game World Cup qualification entree endures as the main course. What fun, and what memories.
1996 All Blacks
Does the '96 history-making tour to South Africa constitute the end point for the old-style football adventure?
The memory skips the byways of a relatively short tour, but this important sojourn still rode tall on the coat tails of famous rugby tours past.
The players also talk of never-to-be-forgotten experiences in a couple of the backwaters, the likes of which no longer feature on international schedules.
The anguish of the 1995 World Cup final defeat made the first series victory in South Africa even sweeter, a triumphant fullstop as rugby transitioned into open professionalism. Captain Sean Fitzpatrick, the son of an All Black, lay prone then pounded the Pretoria turf in exhausted delight.