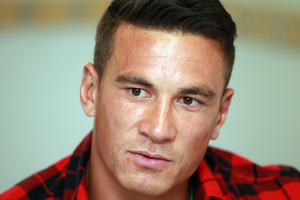 Sonny Bill Williams. Photo / Doug Sherring
So Sonny Bill returns to rugby league, slightly broken but still unrepentant about his flight from the Canterbury Bankstown Bulldogs into the welcoming arms of rugby.
Along the way there were sideshows which involved European rugby, the All Blacks, New Zealand provincial rugby, professional boxing, a new religion and now Japanese rugby, although he is invalided out at present. All this with the overview of the legend in front of his own full-length mirror, Anthony "The Man" Mundine.
Now, it's time for the prodigy to go home. It would be remiss of me not to embrace SBW in a gesture of corporate and sporting camaraderie to present him with the "key learnings" from his time gracing the rugby fields of the globe. Here are some starters for 10:
1 They have long memories at Belmore. For the rest of your rugby league playing days (and may there be many) never put your backside near a Bulldog's mouth. They bite (especially those they consider, rightly or wrongly, defectors from their proud club).
2 Never take seriously the opinions of Welsh rugby writers. The fact is the All Blacks could field A, B, C and D sides which could whip the cream of European rugby.
3 Add to the list above the Auckland and Canterbury women's teams. And throw in the New Zealand sevens team.
4 What's that noise or rather the lack of it? It's in fact the silence of SBW's grandfather and former Carlaw Park stalwart Bill Woolsey, who has finally stopped turning in his grave over his grandson's decision to go to rugby.
5 Nice touch. That hirsute wave on top of your head will go down well with the Bondi mob at the Roosters.
6 They are a tough crowd. You need to be especially alert at your new club for the destructive friendly fire. Fellow Kiwi Jared Waerea-Hargreaves has inflicted more collateral damage on his own team-mates than any others in the past couple of seasons.
7 Shake hands and be pleasant to Robbie Deans when you pass him at the airport. You may need to consider the Crusaders on your next career move.
8 Catch up and stay abreast of the continuing evolution of rugby league tackles, including the grapple, the chicken-wing, the crusher and the lift.
9 Remember scrums as they used to be - one set 10 seconds not 10 minutes - and referees who appreciate that the scrum should be a comma, not a full stop.
10 Don't forget there is a Rugby World Cup in 2013 and you could go a long way towards reversing whatever negative sentiments remain about you if you confirm your availability soon.
Overall, I have no doubt that SBW will be welcomed back to the 13-man game. It was interesting that his former Bulldogs team-mate, the normally affable Hasim El Masri, raised his hackles at his impending return.
But no club would turn down the opportunity to have such a special player on their roster and there'll be celebrations at the Roosters over the acquisition of one of the most exciting players in the world.