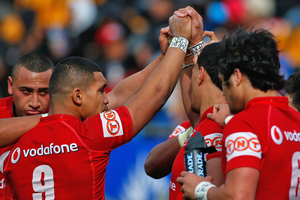 Infant formula maker Fernbaby has become a key sponsor of the New Zealand Warriors, it was announced today.
The three year deal will see Fernbaby sponsoring the Vodafone Junior Warriors in the National Youth Competition in 2013 before becoming a full sponsor of the club's NRL team in 2014 and 2015.
Fernbaby will have a visible presence on the Vodafone Junior Warriors' playing kit in 2013 with its logo positioned on the back of the NYC team's playing shorts. In 2014 and 2015, the Fernbaby logo will be on the front of the NRL team's shorts.
Vodafone Warriors chief executive Wayne Scurrah welcomed Fernbaby, noting the relationship was landmark moment in broadening the club's sponsorship portfolio.
"It's an exciting new direction for us and for sporting brands in New Zealand to diversify in this way by forming a partnership with Fernbaby," he said.
"Bringing rugby league and Fernbaby together has huge potential internationally. We're thrilled about taking this step together and look forward to working on a number of initiatives."
Fernbaby assistant director John McCaulay said the Vodafone Warriors sponsorship is part of a strategy to create a domestic and global brand built on New Zealand's reputation as a supplier of top-quality food products.
"What we are creating is a business partnership that blends New Zealand's dairying skills with Chinese business acumen and capital to generate value-added exports and create jobs in New Zealand," he said.
"We have already made several shipments of product and by the end of this year we anticipate we will be exporting around 80,000-100,000 cans per month into China, where we have distribution channels in place.
"That volume will increase significantly when we roll out our programs for the Korean, Japanese, Indian, the Middle East and all Asian markets over the next two years."
- nzherald.co.nz