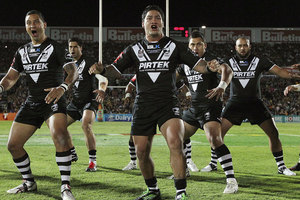 The Kiwis were left ruing what might have been on Saturday night, after a thrilling test in Townsville that lived up to all the hype.
For significant periods of the game the Kiwis were on top and all the ingredients were present for a another famous boilever, though ultimately a failure to convert pressure into points was once again their downfall.
Coach Stephen Kearney was reasonably upbeat after the 18-10 loss, despite the fifth consecutive loss to the Kangaroos.
"In terms of the effort I probably couldn't have asked for a great deal more," said Kearney, "it was probably just a 20 minute period where we didn't execute the way we wanted to with the finish to our sets."
Kearney highlighted the first 20 minutes of the second half, where the Kiwis created numerous opportunities but failed to add to their halftime score, as the critical part of the match.
"We spent a lot of time down on their tryline and we came away with nothing," said Kearney.
"When you have Australia in that position you need to get a result in some form, whether it is a penalty, a back to back set, and ultimately you want a try. We came away with nothing and that hurt us a bit. If we had of executed a little better we would have given ourselves a great opportunity to put some points on the board."
"We were confident coming in at half-time with the energy we had and we started the second half well," added Benji Marshall. "We just couldn't capitalise on our chances and ultimately that was the difference".
"At times we definitely felt on top out there," said Dean Whare. "We had them going backwards but they are a great team and always come back at you."
It was a frustrating but also a heartening display for New Zealand fans. It was difficult to pick out a Kiwi player that had a bad game and some of the football was breathtaking. This was blood and thunder league, with touches of pure silk.
For periods of the match, especially the first 15 minutes of each half, the Kiwis were well on top, bending the Australian line at will and coming up with some stunning offloads. The Kangaroos came back into the contest but were forced to work hard for their points, only sealing the result with eight minutes to play.
"Australia spent a great time of time camped down in our tryline and we kept turning them away," said Kearney, "[in the] same test last year it was 42-6 - so from our point of view it is always about wanting to improve. It will be no different next time and we will want to win."
"Against Australia if you lose a tackle and there's a quick play the ball you are always on the back foot," said Elijah Taylor, "there are so many smart players that can make you pay. But we can be proud of the way we played. We came up a bit short but we gave it a good dig."
Both Kearney and Tim Sheens felt the decision to have an NRL whistler (rather than a Northern Hemisphere referee) was a success and there were few moments of genuine controversy, apart from perhaps the late penalty decision from Ben Cummins which broke the 10-10 deadlock.
"It looked like [Greg Inglis] was trying to pass the footy," said Kearney, "And we have seen that go the other way a lot. But [the referee] saw it that way and we are not going to cry over split milk."
At one point in the second half Cameron Smith was warned about his tackling technique - the Australian captain seemed to get away with a lot around the ruck, particulary in slowing the play the ball down - but the matter was not pursued any further.