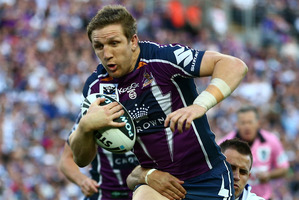 Ryan Hoffman has credited his one-year tenure with Super League giants Wigan as the key factor in a sensational return that has yielded an NRL premiership ring and test recall for Australia.
The former NSW back-rower left the Storm at the end of the 2010 season to join Wigan, where he worked under South Sydney coach Michael Maguire.
Having spent eight years at Melbourne, Hoffman departed in the wake of the salary cap scandal and the move seemed set to spell the end of his representative career.
But after a successful season in England, where his team won the Challenge Cup, Hoffman jumped at the chance when coach Craig Bellamy offered him the opportunity to rejoin the Storm.
What followed was a career-best club season, culminating in a try during Melbourne's grand final win over Canterbury and a recall to the Kangaroos for the test against New Zealand tonight.
Hoffman is determined it won't end there and wants to go on to next year's World Cup.
"This is the reason I came back, to win grand finals and be selected to play test footy again," he said. "To do that in the same week has put the icing on the cake on what has been an amazing year."
Test coach Tim Sheens said at the team announcement last week that Hoffman would have been unlikely to have been selected if Sam Thaiday was available.
But he also said the 28-year-old was now a better and more mature player than when he last selected him in 2009 and challenged him to stay in his side - a fact not lost on Hoffman.
"I 100 per cent agree with Tim," he said. "In retrospect, going overseas was the best thing I ever did ... I needed a break from the NRL."
Hoffman revelled in life in the league goldfish bowl that is Wigan - a town where the English Premier League side take second billing to the rugby league team.
"I loved it, the people of Wigan love rugby league and are very knowledgeable," he said. "It was very different to Melbourne where league is not the No1 sport and no one knows who you are."
- AAP