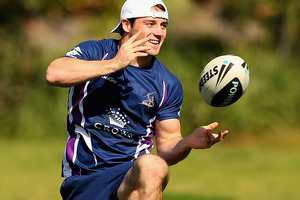 Having run out of legs at the back-end of 2011, Melbourne halfback Cooper Cronk claims this season's mid-year malaise may just prove the catalyst for NRL premiership glory.
The Storm's five-game losing streak tested the patience and belief of all at the club.
Only one other team has won a premiership after losing five successive matches during a season - the 2006 Brisbane Broncos.
Yet Melbourne now go into their fifth grand final in seven seasons with their form on an upward curve, and believing they are fresher physically and mentally than last year.
"We took two steps backwards to move forward, and I'm comfortable with the position we're at," star halfback Cronk said on Monday.
"There was a few scratching of heads at that point in time.
"But as a unit we were able to dissect what we were doing badly and come out of it."
And their timing could not have been better, with their recovery instigating a five-match winning run which the Storm took into the finals.
They weren't so lucky last year, when the minor premiers faded badly in a preliminary final loss to the Warriors.
"Last year we ran out of legs by the end, and we got steamrolled by the Warriors," skipper Cameron Smith said.
"We knew it was going to be important to be right in the back half of the season.
"We're in a lot better shape than we were last year."
Smith denied this year's slump - which coincided with the end of their busy State of Origin period - was due to any drop-off in workload.
It's just the work wasn't translating into results.
"We'd always had the belief that you train well, you play well. But it just wasn't working out that way," Smith said.
"At the stage when Craig (Bellamy) was questioning what he was doing, you were wondering 'are we going to get out of this?'
"But we knew the only way to get out of it was to keep working hard at training.
"It was always there. You don't lose your talent overnight. It was just about gaining the confidence."
It wasn't as if the Storm didn't know about having their faith tested.
Enduring the salary cap scandal and having what they had won stripped away was the darkest of times.
But redemption has not been the theme for this group of players - just making hard work pay off by beating the Bulldogs at ANZ Stadium on Sunday.
"A lot of people see the great tries and fancy plays, but we really concentrated on making the small plays our big plays this year," Smith said.
"That's what's made us a better team this year, and it makes us better prepared than last year."
- AAP