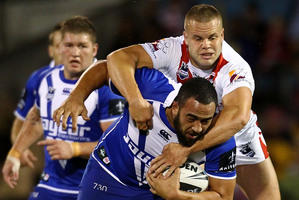 Do as your mother tells you.
New Zealand league fans will be hoping boom prop Sam Kasiano follows that age-old piece of wisdom when he decides where his loyalties lie in the coming weeks.
Recognised as the best prop in the NRL at the Dally M awards earlier this week, the 122kg, 21-year-old Aucklander's stock is high.
Although he has pledged his future to the Kiwis in writing, his eligibility became clouded when he was overlooked by the Kiwis selectors for the Anzac test and courted by Queensland coach Mal Meninga.
After a storming season he would be a certain selection for the Kiwis for October's one-off test against the Kangaroos in Townsville.
However Kasiano's last public statement on the matter suggested he had yet to make up his mind.
He will not be named in the Kiwis side unless he makes his intentions clear. And the Herald understands the NZRL have had difficulty making contact with Kasiano to clarify his position.
However NZRL general manager high performance Tony Kemp said he had spoken to Kasiano prior to the Bulldogs going into lockdown mode ahead of the NRL playoffs.
More recently he had spoken to Kasiano's mother, who said it was her strong preference for her son to represent the country of his birth.
"She has indicated she wants him to play for New Zealand," Kemp said. "Sam is a young man. He is only 21 and he wants to focus on finals football and we respect that.
"But he is well aware of where he sits with New Zealand Rugby League and as soon as he has finished with his [Bulldogs] commitments we'll be talking to him."
Kasiano is close friends with Kiwis stars Frank Pritchard and Greg Eastwood at the Bulldogs, a fact that may also influence his decision.
Kemp was annoyed that Kasiano - who moved to Australia as a teenager - was facing a dilemma at all.
"The Mal Meningas and Ricky Stuarts of this world confuse our kids, and Origin is such a massive carrot," Kemp said.
"But Sam moved over [to Australia] late. "He played less than a season in Queensland. He is not a Queenslander. It would be very, very embarrassing for the NRL if Sam Kasiano plays for Queensland.
"It just blows the whole state versus state concept out of the water."
Teenage Roosters sensation Roger Tuivasa-Scheck, another Kiwi being touted as a potential Origin player, was in no danger of switching allegiance, Kemp said.
"That won't happen, I can guarantee you that. He is a Kiwi. He'll be named in the Junior Kiwis side in a couple of weeks' time."