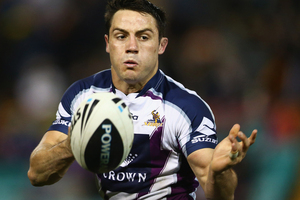 Melbourne Storm halfback Cooper Cronk says he's drawn confidence from the way his side clawed their way back from their mid-season slump ahead of Saturday's NRL qualifying final against South Sydney.
The second-placed Storm are set to host the third-placed Rabbitohs under the new finals format at AAMI Park in a twilight match.
Melbourne dropped five games before going on a four-match winning streak to end the regular season, although two of those victories were nail-biters.
Cronk said the way that the team managed to to get their season back on track showed a special quality.
"One thing I'm really proud about is the way we were able to get through that because not too many teams would be able to do that," he said on Friday.
"Our defence wasn't great, our attack was all over the place and to have honesty in reviews to set things back in order and to sit today where we are, I get a lot of confidence from that."
Cronk said he felt "comfortable" with their form, compared to last season when they were minor premiers but lost two matches heading into the playoffs and were then upset by the Warriors in the preliminary final.
"I think last year we won 12 or 13 straight through that Origin campaign and ran out of gas at this time of year," said Cronk.
"This time we lost five after Origin and now we're building to something.
"I'm not sure that guarantees us success but I'm comfortable the position where we are as a team."
-AAP