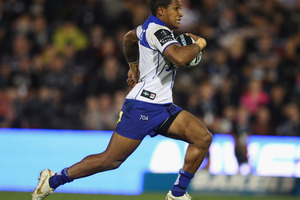 After 26 roundsof the NRL the regular season has come to an end with only the top eight sides contending for the championship during the finals. Justis Kamu brings you the regular season awards for 2012.
1. Drum roll please...

*Player of the season - Ben Barba (Bulldogs)
*Rookie of the year - Adam Reynolds (Rabbitohs)
*Best comeback victory - 24 Souths 22 Roosters, round 19 at Allianz Stadium.

*Best midseason transfer - Krisnan Inu (Warriors - Bulldogs)
*Breakthrough player of the season - Josh Reynolds (Bulldogs)
*Best young forward - Josh Jackson (Bulldogs)
*Best young back - Josh Mansour (Panthers)
*Best retiree of 2012 - Nathan Hindmarsh (Eels)
2. Six Warriors with the most to prove in 2013
Simon Mannering - This season the club captain has been an underwhelming presence in his side. He missed the last two months of games due to injury but when he was on the park he struggled to provide a calming influence for a side that were short on experience. Coaches and fans know what they get with Mannering - uncompromising defence, a hardworker on the park, but he needs to add some attacking bite to his game.
Manu Vatuvei - Although Manu finished with 12 tries, 11 line breaks and 2300 running metres for the season. His season will be remembered for the raft of blunders that he made throughout the campaign. He had plenty of knockers calling for him to be dropped to NSW Cup; he survived that fall. But fans will be on his back in the new year if he doesn't improve on his displays in the Warriors.
Ben Henry - The former Toyota Cup skipper played every first grade match in 2012 but he still has a question mark over where he fits in the side. A secondrower who played the majority of the season at centre, he was short of pace on the outside and was exposed on several occasions by faster backs. His strength is playing defence, and on the weekend against the Raiders he made 22 tackles on the right edge. But with Simon Mannering, Elijah Taylor, and new signing Todd Lowrie all defensive backrowers, does the side need another in 2013?
Bill Tupou - Ivan Cleary and Bluey both had him as a regular starter in their weekly lineup. The former coaches loved this kid but he has yet to convince supporters that he is a genuine first grader. Scored over 20 tries in the 2010 under 20s grade, finding the tryline has been a difficult proposition for Tupou in first grade making him look like a mediocre back with average skills. He needs to create more opportunities for himself on the wing if he is to contribute effectively on the field.
Glen Fisiiahi - 'The fish' has all the raw materials in his makeup to make a strong impact in the NRL. Intelligent, agile, fast, safe under the high ball, and dangerous on the counterattack he should be in the Warriors lineup week to week. Hence the reason why the Warriors locked him in to a long term deal till 2015. But the under 20s star has failed to make the most of his opportunities in first-grade is now behind Carlos Tuimavave and Kevin Locke for the fullback role. If he can't make the breakthrough soon, he could be heading across the ditch or to Super League.
The new coach - Who is he? What skills will he bring to the club? Who will be his assistants? Can he turn the club around in one year? There are a number of questions for Warriors fans to think about in the off-season as they wait anxiously over the next couple of months for an announcement of a new head coach. Many are expecting the Warriors to bypass Tony Iro and go with a candidate from overseas, Mick Potter currently at Bradford Bulls is said to be in the running. Whoever it is, he will come to a city that is down on confidence, and a desperate for a championship. Fans want a maiden title to celebrate, but a finals spot next year would be enough to satisfy even the most loyal fans after a dreadful 2012.
3. Six Kiwis to watch in the NRL finals
Kieron Foran (Sea Eagles) - The Manly five-eighth is entering his third straight finals run with the Sea Eagles. Still just 24 years old, the NSW born footballer will walk into the finals series with plenty of confidence knowing he has been there and done that. Last year's Grand Final victory gave him a taste of NRL success and with halves partner Daly Cherry Evans coming into form in the right part of the year. Manly will be gunning for their second title in two years with Foran critical to their team's direction in the next four weeks.
Sika Manu (Storm) - The big secondrower never takes a step back. Sikalamu is a chunky forward who loves to run with the ball in hand. Close to the tryline, he will be hanging off Cooper Cronk and Gareth Widdop to use his frame to bust through the defence to dot down. Off to the Panthers in 2013, the Wellingtonian is hoping to finish his Melbourne stint with an NRL title under his belt in after his first two titles were stripped for the salary cap breaches in 2007 and 2009.
Krisnan Inu (Bulldogs) - This man deserves props for making the most of his time at the Bulldogs. Cast aside by former Warriors coach Bluey McClennan early in the season, Inu has scored 10 tries, kicked goals and golden pointwinner since his mid-season transfer. When he's happy he plays well, and the Bulldogs fans have quickly taken him on as one of their own.
Alex Glenn (Broncos) - The Northcote Tigers junior is a mainstay of the Broncos pack. He has a lean build compared to some of the bigger backrowers running around in the finals; nevertheless he is not one to shy away from the rough stuff. An intelligent footballer, who is great at choosing the right angles when running at the defensive line.
Isaac Luke (Rabbitohs) - The Souths hooker was having his finest year to date before he was suspended for three matches after a dangerous throw on Shaun Kenny Dowell. That saw Luke lose his starting position to Nathan Peats, and on his return he was dropped from the matchday squad after a training bustup with Scott Geddes. However he is raring to go in the first finals appearance for the club in six years. He will likely come off the bench late in the firsthalf against the Storm to try and spark his side around the ruck area.
Jeremy Smith (Sharks) - New Zealand's answer to Paul Gallen. The former Dragons and Storm hardman now finds himself in the same club side as his international nemesis. The Kiwi Test lock has a great motor, strong in both attack and defence and is tough as nails. With Smith, Anthony Tupou, and Gallen in 11,12, and 13 for the Shire club, the Sharks have one of the better backrows in the finals.
4. Three teams that flopped in 2012
(1) Newcastle Knights - They were predicted to be in the running for a top four berth with master coach Wayne Bennett bringing in Danny Buderus, Kade Snowden, Adam Cuthbertson and Willie Mason to the Hunter Valley. Looked good at times but weren't consistent enough as they finished in 12th position.
(2) Wests Tigers - Finished a disappointing 10th. At one point in the season they had won six in a row and sat pretty at third on the ladder. They played like a touch rugby team at times, which is great for their attack but not on defence.
(3) NZ Warriors - This year was hyped as the season which the Warriors would create history with a title win. After last year's Grand Final loss, and the success of the Toyota Cup side many had picked the club as the team to beat. Instead they crashed to 14th after being on the cusp of the finals - lacked the experience, killer instinct and fight to win games over 80 minutes.
5. Your comments
@ North Shore citizen
Its funny to me how the Warriors big issue this year has been defence, so they fire the Head coach and put the defensive coach in his place? How is that going to fix our defensive issues?
I would like to see Kevin Campion back as Defensive coach, Warriors defence has never been more disciplined or strong as it was when Campion was in charge of the boys line. We need that discipline back!
- T Iro was just the assistant coach, R Wiki has been the Warriors defensive coach this season. Wiki should never be offered the job again. He should've paid his dues as a coach in the Toyota Cup, Vulcans or Fox Memorial before he was given the green light in the NRL. It would be a huge shock if Wiki holds on to his job for next season after this year's defensive failings. He's a great player but he hasn't fared well in the coaching box. K Campion is now running his own real estate branch of Ray White in New South Wales. He would need to prove that he can coach better than he plays; however trying to lure him here may be difficult. He is said to be enjoying his gig as a salesman.
@Louis P
To be quite frank, this is what us Kiwis do best. We criticise. Shaun Johnson is a young man with dreams and has an attitude which could do with a little work. I'm sure if any of you were in the spotlight at his age, you wouldn't be able to handle it.
Also, only criticise a rugby league player's skill if you play the game. It is one of the toughest sports out there. We treat our sports players as if they have super powers. They are human just like us and don't always perform just like you don't perform at work or in your general lives.
In a nutshell we haven't seen a talent like Shaun Johnson in NZ sport in a long time, we should back our sports players 100% with whatever decision they make.
- Fans/clubs can expect players to conduct themselves to certain standards. The interaction between fans and players works both ways; it's a give and take relationship. His age (22) doesn't excuse him from his responsibilities as a Warriors rugby league player in view of all the resources he has to help him with the transition to the professional game. The NRL/Warriors have education officers/workshops in place to teach young players about all the off-field aspects of football such as media relations, community visits, and dealing with one's public profile. Agents are also on hand to advise players on a number of personal, sporting, financial and life decisions. Making comments about his playing future at a time when the Warriors were down in the dumps could've been avoided. The most appropriate thing for the team was for S Johnson to keep his head down, lips sealed and work on beating the Dragons in round 25.
@ ExPat
"Which of the current Warriors would be the first to sign a deal of that magnitude? Shaun Johnson, Kevin Locke, Konrad Hurrell, Sam Rapira are all contenders for a massive payday."
Shaun Johnson is just a kid still finding his way. Kevin Locke is desperately out of form and looks to be carrying constant injuries. Konrad Hurrell is a combination of the above two and as for Sam Rapira and Ben Matulino, while they are absolutely star props, you should never, ever pay that much for a prop. They wont win you enough games to justify stupid money.
It is common to see a player have one great season and go on to sign a big money deal. M Jennings, J Hayne, C Sandow, and J Idris all negotiated contracts $500,000 or more a year after making a standout contribution in their respective teams. Yet after signing their new deals none of those players have performed to the level that justified them getting the bigger pay packet. It only takes one season for the Warriors to turn their fortunes around. K Locke, S Johnson, B Matulino, K Hurrell and S Rapira could possibly have a huge year in 2013 and help steer the team to a title. That would change the complexion of negotiations between club and player.
6. Team of the year
1. Fullback - Ben Barba (Bulldogs)
2. Wing - Ashley Graham (Cowboys)
3. Centre - Josh Morris (Bulldogs)
4. Centre - Jamie Lyon (Sea Eagles)
5. Wing - Akuila Uate (Knights)
6. Five-eighth - Josh Reynolds (Bulldogs)
7. Halfback - Adam Reynolds (Rabbitohs)
8. Prop - Sam Kasiano (Bulldogs)
9. Hooker - Michael Ennis (Bulldogs)
10. Prop - Ben Matulino (Warriors)
11. Secondrow - Frank Pritchard (Bulldogs)
12. Secondrow - Dave Taylor (Rabbitohs)
13. Lock - Glen Stewart (Sea Eagles)
Coach - Des Hasler (Bulldogs)