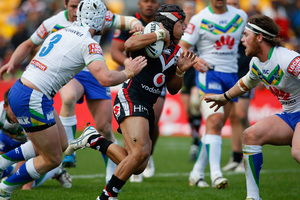 It's the ultimate slap in the face but it is hardly undeserved - the Warriors have gone soft.
A lack of mental and physical toughness has been at the root of all this season's ills, conceded stand-in coach Tony Iro in a revelation that was stunning only because it was publicly stated. Throwing the 'S' word around is a taboo seldom broken in league. But that Iro is bang on the money has been blindingly obvious for some time.
"This season for one reason or another we haven't been able to compete for 80 minutes, physically or mentally," Iro said. "There is definitely a soft edge to the side. There is no hiding from that."
Captain Simon Mannering found it impossible to argue with that.
"Well, he's hitting the nail on the head," was Mannering's reaction when asked how he felt being described as soft.
"We've made a habit of switching off and being soft. We have to make it a habit of being a lot tougher. It's too hard a game if you are going to switch off and let in 40 points a game."
The issue was more mental than physical, Mannering said.
"You can do all the training you like, it's whether you want to put it into practice on the field. It feels like of late we have got into a habit of defending very poorly. Whether that is fitness or not ... we are just in a rut at this stage."
Departing workhorse Micheal Luck certainly felt the sting of Iro's words.
"I think that is a pretty harsh description," Luck bristled. "As a player it's the worst insult you could throw at me. But results speak for themselves. We are certainly not as hard as we used to be."
Iro has displayed a tough edge during his brief reign as a stand-in for the deposed Brian McClennan. However yesterday's familiar meltdown won't have helped his prospects of landing the job full time. "Unsure - haven't really worried about it," he said.
"The biggest thing has been trying to get some results in the last couple of games. I'm devastated for the boys who are leaving, particularly Lucky. He is heart-broken. He has done everything for this club.
"But unfortunately that is where we are as a team at the moment. There is not a hard edge about us. What else can you say? We've done that [folded] plenty of times this year.
"For one reason or another we are just not good enough."