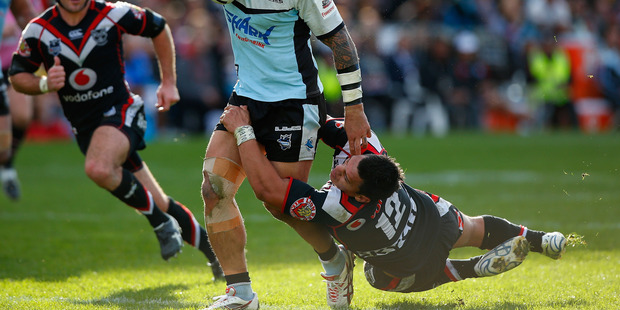 The Warriors' Elijah Taylor tackles Jeremy Smith of the Sharks earlier this month. The defence has been a particular weakness under Brian McClennan. Photo / Getty Images
Of the three most likely coaching scenarios at the Warriors next season, the partnership of Brian McClennan and Stephen Kearney appears the most promising.
At first glance, having such strong personalities working together seems unwieldy but it just might work. The Warriors have lacked structure this season, particularly on defence. Structure is Kearney's forte as a coach. He did his coaching apprenticeship at the Storm and tried to bring a more structured, scientific approach to Parramatta and the Kiwis. Kearney is ambitious but might be content in the shadow of McClennan for the time being, especially with the World Cup seen as a priority next year.
If McClennan nominally retains control, Kearney can remain in the background. If things go wrong for the Warriors at that stage, Kearney is a ready-made replacement, untainted, at the Warriors at least, by failure.
Perhaps the most perceptive observation on Kearney's time at Parramatta came from former Kiwis and Manly coach Graham Lowe, who said of Kearney's attempt to bring more structure into a more intuitive, ball-playing club: "I felt he might have had too much on his shoulders," says Lowe, "and maybe he fell into the trap of thinking coaching is a science, rather than an art".
Reports from Parramatta also suggested that Kearney fell down in the area of man management, which is a particular strength of McClennan. Trust might be hard to build between two men, even though they know and like each other - but the two-coach concept could evolve and succeed if the chemistry is there.
McClennan, on the other hand, is regarded by many as a motivational, rather than a scientific coach, with his detractors maintaining there is not much in his coaching cupboard once the motivational opportunities have given way to the relentless grind that is an NRL season. He was an innovator - often successfully - and full of fresh thinking as Kiwis coach but there is less need of that this year, perhaps simply due to the demanding nature of the NRL job.
"I've never been involved in a team that has had two high profile coaches," says NRL veteran Micheal Luck, "but as long as the dynamics are right and everybody knows their roles, I can't see why it wouldn't work".
McClennan seems to accept that he needs help. This season has been a chastening experience and his ego and self-belief have taken a battering. McClennan has always been his own man and done things his own way but pragmatism has taken over in the current situation.
"Most NRL clubs have a head coach and two assistants," McClennan told the Herald on Sunday. "We haven't had that here for a while. Stephen, in particular, would be excellent. He has done extremely well in his own coaching career for the Kiwis and has loads of experience from his time at Parramatta and Melbourne.
"The more heads we put together the better. We want to have good people and he [also] fits the bill big time with his experience. But I want to stress at this stage that it is just talks; Steve has a few options and we would only be one of them but hopefully it all works out."
OTHER SCENARIOS for 2013 are McClennan continuing in his present role with his current coaching staff or Kearney taking on the head coach role. The first option won't happen. Even if the Warriors finish the season well and restore some pride, there is recognition in the upper echelons of the club that more coaching resources are needed - not just because of McClennan's inexperience but also because of the shape of the club going forward.
They are firm in their strategy of being a development club and have a plethora of young players.
They are not yet self-sufficient and need plenty of extra help in skills development, sports psychology and strength and conditioning.
As for Kearney being installed as the top man, his spell at Parramatta was far from successful. While the players and the dysfunctional club culture share some of the blame for the Eels' miserable season, Kearney's recruitment was poor and his tactics and game plans were often found wanting.
His roster wasn't the most star-studded in the NRL but the Eels had a core of experienced players (certainly more than the 2012 Warriors) but Kearney was unable to get them to gel as a unit.
While the Warriors are a development club, do they really need another head coach who is still developing his career? Ivan Cleary proved a winner but was given six years to develop, a situation that won't be repeated in the current climate. Tony Kemp and Mark Graham struggled to find their feet in the NRL, while Frank Endacott's promising term was cut off by the change in ownership at the turn of the last decade.
Kearney is also close to many of the Warriors players, given his Kiwis role, which may complicate matters further. Daniel Anderson struggled with the dual role and there is a feeling that the club operates best with someone a bit more distanced from the players, as Anderson and Cleary were.
"In the NRL you have to make very tough decisions," says Lowe. "They are not personal, just business. Sometimes at the Warriors it feels like everyone is in love with each other a bit too much. In that situation it is hard to make the big calls."
Coaches like Craig Bellamy, Des Hasler, Geoff Toovey and Wayne Bennett carry a certain fear factor with them and never seem to get too close to their players.
A fourth option but less likely option, if the Warriors ownership one day decide that McClennan is no longer the best man for the job, is someone from outside the current circle - perhaps men like Jason Taylor and Steve Folkes, who have NRL experience and still have a lot to prove in the sport.
WHILE MUCH of the focus has centred on McClennan's role in the implosion of 2012 at Mt Smart, little blame has been laid at the feet of the players. Individually many have disappointed across the year and collectively they simply haven't delivered.
"Things can turn quickly," says former Kiwis and Warriors coach Endacott. "It wasn't that long ago that we were saying how well they were going. I can sympathise with Brian's situation. He has put a lot of faith in his players and it is time they repaid that. The players need to put their hands up and help."
Nathan Friend, along with captain Simon Mannering, has been one of the few to come up with the goods consistently this season and, even in the last two heavy defeats, he has put in 80-minute efforts. One play last week seemed to sum up the season. Friend put in a 50-metre kick and hared downfield to trap Matt Bowen in goal, knowing that it was a pivotal play at an early stage in the match. But it was very much a solo effort.
"The boys are trying hard but just not doing it together at the moment," says former Warriors captain Steve Price. "Injuries and momentum haven't helped, though defence just comes down to attitude so you can't really make excuses there."
Like most observers, Price feels that the absence of Jacob Lillyman, Micheal Luck, Sam Rapira, Friend, Jerome Ropati and Mannering at different stages of the season has also been a blow.
"Those injuries have made it tough for the squad, with a lack of old heads for the young boys to turn to," says Price.
The NRL is a unforgiving 26-match marathon but it is possible for rookie coaches to succeed - look at what Michael Maguire has achieved with Souths - but it is not easy.
"His young players have stepped up and they haven't had many injuries - he has managed with a fairly small squad," says Price of Maguire.