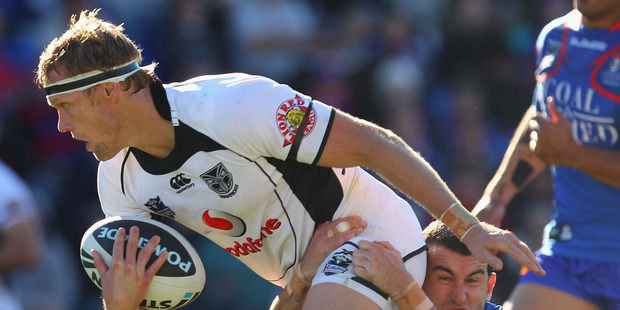 Micheal Luck is desperate for improvement. Photo / Getty Images
Micheal Luck doesn't believe in sporting fairy tales and it is probably just as well.
This annus horribilis of a season was hardly the way he wanted - or deserved - to go out, after seven seasons of sterling service at the Warriors. Injuries have ruined his campaign and the 30-year-old has also had to watch as the team has slowly unravelled in the second half of the year.
Luck would be near the top of most lists of best Australians to play at the Auckland club and few others have put their body on the line in such a fashion. However, he is philosophical about his fate.
"It's very rare for anyone to finish with a fairy tale," Luck told the Herald on Sunday. "I would have loved to finish on a high but that is not how it has happened and that is part of playing a team sport. You go through the high highs with your mates and also the low lows and it is how you come out the other side of both extremes that define your team and your club. Whilst it is hard to see at the moment - we are in a society that wants instant results - I honestly believe this place will be better off in the long run for what has happened this year."
According to Luck, this season has had distinct parallels with 2009, where the club also came off a strong finish the year before (they reached the preliminary final in 2008), only to sink to surprising new lows.
"Back then it wasn't working for us, no matter how hard we tried," remembers Luck. "We got down on confidence and started to struggle. We were also affected by injuries, though probably not as much as this year. As has been already said, if you take four senior players out of any team (Luck, Sam Rapira, Jerome Ropati and Simon Mannering), they will struggle, though that is just one element.
"The simple fact is we haven't been good enough this year, for the amount of time needed to win NRL games. We have been good enough in patches but not enough to take matches out. The NRL is such a tough competition that if you are one or two per cent off on any given day, you are going to get beaten. If you are five or 10 per cent off, like we have been the last two weeks, you get flogged."
Luck also believes it is partly a product of the NRL's stringent salary cap, which can create a boom and bust cycle. Certainly the Warriors are not the only team in recent years to suffer a dramatic fall from grace after reaching a grand final. Parramatta made the decider in 2009, only to miss the finals and finish 12th the following season. Another recent example came with the Roosters, who were grand finalists in 2010 but fell to 11th last year. However, the Warriors did manage to keep all the players they wanted to and the signing of Nathan Friend was meant to be the icing on the cake.
"We had pretty high expectations of how we were going to go this year," says Luck, "especially after doing so well over the last two years. That has made it much tougher to take but they will learn."
As Luck points out, most of the young players in the club have known nothing but success, having come through the all-conquering Toyota Cup side of the last two seasons.
"This is the first time they have had to deal with losing and play with some degree of failure," says Luck.
For now though, Luck is focused on turning the ship around, in the short-term at least. Probably more than anyone else, Luck is desperate to win today, determined to end his career on a high.
"I know a lot of people are talking about next year but we still have three games to go," says Luck. "These are the last three games of my life and I would like to win them. I want to finish on a good note and it is up to me to lift the boys to come with me and enjoy the last three weeks of my career and go out with a smile."
Penrith will be a tricky but highly beatable opponent today. The Warriors have won the past four clashes between the two teams and five out of the last eight.