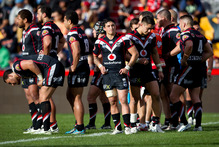 Sharks 45
Warriors 4
Kick a sick dog often enough and it will either get up and bite or roll over and die.
There wasn't much bite in the Warriors yesterday. There wasn't even a bark. A victory would have put them back inside the top eight but even that knowledge wasn't enough of a carrot to raise anything more than a desultory effort from a side that has taken its licks over the last three weeks.
There's another apt dog analogy here - the one about the size of the fight in the dog being more important than the size of the dog in the fight. For that to matter, first you have to have a fight. There wasn't one yesterday.
From the moment Todd Carney blocked Shaun Johnson's grubber and ran 90m to open the scoring, the Sharks did pretty much whatever they wanted.
The Warriors moped around with heads bowed and shoulders hunched. Dejected, deflated and worse, defeated already with the vast majority of the match still ahead of them.
By halftime they trailed 21-4. It could have been worse, and soon was. At 33-4 with 20 minutes still to play, many in the shrinking crowd began heading for the exits.
Even in the dark old days, Mt Smart has seldom been this funereal. This was dire. This was rock bottom.
"This would be our darkest day this year," coach Brian McClennan said.
There was bad news to go with the gloom, too. James Maloney limped off with a knee injury after just 14 minutes. How long he will be out is unclear, but he will not make next week's trip to Townsville - a regular graveyard for the Warriors.
Prop Ben Matulino is also doubtful with a pectoral injury that will be scanned today.
Maloney's replacement, 20-year-old Carlos Tuimavave, is expected to have a big future at the club. His introduction to life in the NRL came courtesy of a fend in the face from veteran Sharks centre Colin Best.
The youngster was left sprawling on the turf as Best raced away and sent halfback Jeff Robson over for an embarrassingly simple try.
Tuimavave at least recovered well, sparking a couple of nice short side raids that ended with a Bill Tupou try that was already a consolation despite coming on with 50 minutes still to play.
The worm has turned for McClennan's young side, and it is burrowing towards the foot of the NRL ladder.
The coach lamented the passivity his side displayed in the early exchanges, saying it led to the hammering that was to come.
"All of the boys feel very down about that performance," he said. "That is not us. We have got to bury that, get out against North Queensland [on Saturday night in Townsville] and show what we are capable of."
The Sharks had not managed a win in their past four matches but this performance suggested their tough run may be coming to an end. The 41-point victory was their biggest over the Warriors, cementing a top eight position that had been slipping away.
For a Warriors side that narrowly avoided one of the heaviest losses in the club's history, it was an emphatic final nail in a coffin lid that had begun to swing shut with the meltdowns against Newcastle and Manly.
"It has made it as difficult as it can be," McClennan said of the club's finals prospects.
"There is still an outside chance if we win four. It is not over completely."
Veteran forward Micheal Luck played 80 minutes for the Vulcans on Saturday but whether he is considered for the trip to Townsville will depend on how well he recovers this week.
Regular captain Simon Mannering is still considered doubtful because of an ankle injury.
By Steve Deane

Email

Steve