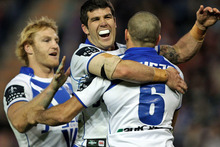 Coach Wayne Bennett bemoaned Newcastle's frustrating ability to hand opposition sides early match-winning leads as his courageous Knights lost 26-10 to Canterbury on Saturday.
On the back of four early tries the Bulldogs led 24-0 after just 18 minutes but, after the stunning opening, the visitors managed only two further points from a Krisnan Inu penalty goal in the last minute of play.
The Knights clawed their way back from 18-0 behind against the Warriors two weeks ago for a stunning win, but Bennett said they couldn't be expected to achieve such a feat every week.
He nominated games against South Sydney and Brisbane as other occasions they had been blitzed early, making it hard to fight their way back into the game.
"That has happened to us a few times this year, we have obviously got a few issues there," Bennett said.
"We can't give that kind of lead away against any team in the competition. We have done it three or four times I think and we have got it back once and been beaten three other times."
After the Bulldogs lightning opening they were outscored by the Knights 10-2 for the remaining 62 minutes of the round 22 clash and Bennett said that showed his team could match it with the premiership frontrunners.
"After about 25 minutes we started playing some football and we got back into the game," Bennett said.
"If we could have contained that damage we could have made a game of it. We tried to make a game of it but we just gave up too much."
In racking up their 10th consecutive win the Bulldogs scored four converted tries in the opening quarter to Joel Romelo, Jonathan Wright, two, and Josh Reynolds in an impressive attacking display.
A tough Knights side did well to work their way back into the game and two tries to winger Akuila Uate in the 40th minute and the 51st minute pegged the lead back to 24-10.
The home side had their chances in a tight second half in which they enjoyed the better of field position and at one stage had five successive sets of six on the Bulldogs' line.
But the premiership favourites didn't crack and captain Danny Buderus joined Bennett in querying the Knights' efforts in the opening exchanges.
"I just can't work out these 20-point starts we are giving away," Buderus said.
"It has happened a couple of times like Wayne said and we just can't give away 24 points like that."
Newcastle sat adrift of the top eight on percentages entering the weekend and, with a tough draw ahead in the final month, they need a quick fix to keep their finals hopes alive.
- AAP