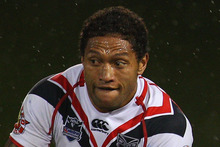 When it comes to loyal Warriors supporters, there appears to be three battle-hardened groups who regard the NRL club as their second home - those who love giant wing Manu Vatuvei, those who love him even more, and those who adopt the old Shirley Bassey standard "first I love him, then I hate him, then I love him ..."
Now, the elevation of crowd-thriller Manu to the Warriors' captaincy for last night's critically important Round 21 clash against Manly had many followers scratching their heads. Did Bluey see something no one else had?
Certainly, the reasons behind the transition of "The Beast" into leadership were surprisingly vague from coach Brian McClennan who spoke of Manu's role to "inspire his team-mates and flip the coin to say which way we're going to go".
Of course no criticism can be levelled at Manu who is the sort of bloke who would scrub the dressing room walls with a toothbrush if it meant helping his side to win. But leaders are born and not made just because they've been around for a while. Warriors supporters are entitled to a little more explanation than they were given.
For me, Vatuvei is a weapon, not a general. He is an explosive unit who can be a match-winner if he gets enough of the ball but increasingly, his mistakes are being underscored by his own honest body language.
If McClennan wants him to provide inspiration in the front line more, inflicting his particular brand of havoc, surely a leaf should have been taken from Manly's playbook. The Sea Eagles did not hesitate to shift their own wrecking ball, Tony Williams into the second row this season to add some punch - with devastating effect.
There are other Warriors captaincy candidates, with Shaun Johnson and Nathan Friend the obvious two. Friend is now firing in a way which must please the coach after an indifferent start to the season.
It could be said that Johnson is already expected to carry too much on his young shoulders but such a move may allow him to feel comfortable in directing play and running to the line more.
From my viewpoint, there is another aspect of the Warriors' play which is both disappointing and disturbing. As a seasoned player for Mt Albert in the tough Auckland club competition of the 1980s, Brian McClennan was renowned for his ability to "bring a side home". In other words, to take a game by the scruff of the neck and win it almost single-handedly.
Overall, it has not been an easy first NRL season for Bluey. The coach is obviously sorely peeved at his team's capitulation after building healthy leads in recent weeks. McClennan was reportedly furious at the lack of intensity Krisnan Inu brought to the club and now has to watch the flawed genius ride the Bulldogs to a probable Grand Final berth.
Already disappointed fans are looking past 2012 for redemption.
Already they are seeing some glaring gaps in the roster for next year. Perhaps McClennan will now add to that recruitment list, potential leaders, born not made.
By Malcolm Boyle