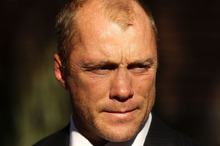 In the week that has seen Steven Kearney fall on his sword, Geoff Toovey has shown that a successful transition from assistant to head coach is still possible in the NRL.
At the start of this season, like Brian McClennan and Kearney, Toovey had a tough task at Brookvale. While he inherited a talented Manly Sea Eagles squad, Toovey was an NRL coaching rookie who had to step into the large shadow cast by Des Hasler. The club was beset by internal divisions, with the future of several key players up in the air and a premiership hangover to avoid.
It hasn't yet been a year to remember - with several dips in form - but before last night's match against the Warriors, the club were well placed to make a run at the top four.
"It's been an indifferent year," Toovey told the Herald on Sunday. "We have played some fantastic football at times but have also been inconsistent. Injuries and suspensions have hurt us at times but we can't just put the blame on that."
Toovey says the transition from assistant to top dog is as big as they come: "I've been lucky really because the systems were already in place, the staff here are very professional and the club has a great culture," says Toovey.
"But in terms of a difference in roles, it's like chalk and cheese. The assistant has got responsibility but nowhere near the amount of stress and accountability of the bloke in charge. It takes it to a whole new level. I thought I would be coach one day but it probably happened sooner that expected."
Undoubtedly, part of the stress comes from his devotion to Manly. Toovey has been a fixture at the club for whom he made his first grade debut back in 1988, alongside contemporaries such as Michael O'Connor, Darrell Williams, Cliff Lyons and Paul 'Fatty' Vautin.
Toovey was renowned as one of bravest men ever to play the sport. He was built more like a jockey, standing just 1.68m and weighing 70kg (as a comparison, Billy Slater is 1.79m and 89 kilos) and often came in for rough treatment. But he played 286 games for Manly and the Northern Eagles and is the longest serving captain at Brookvale, having never played for another club. Toovey, who played halfback, five-eighth and hooker, also captained New South Wales and Australia and in 1995, his prowess at halfback was enough to push Andrew Johns into hooker for the Kangaroos. Toovey then spent six years as Hasler's assistant before moving into the top job when the former school teacher was sacked last November.
The duo spent years together - first as players, then in the coaching ranks - but you sense, like many at Brookvale, that Toovey was deeply hurt by the manner of Hasler's departure, when he was accused of attempting to poach many of the players and staff to the Bulldogs.
"This is a new era, a new role with some new players and we have to look forward," says Toovey. "This was a great club before Des and it will continue to be. I'd like to think that it is the same club, with the same culture as it was when I was playing."
There is no doubt that Toovey has inherited Hasler's infamous competitiveness and his take-no-prisoners approach. His post-match outburst after last week's loss to the Bulldogs mirrored many seen from Hasler over the years.
"I have to query the league and say where are the two best referees in the game for this game - because the blokes in the middle definitely weren't the two best for this job," Hasler fumed after the match. "They had terrible games. Terrible decisions. I can't wait until they try and explain some of them. The 10 [metres was] non-existent. The penalties are like a lucky dip, you just don't know what you are going to get. Who is answerable for it? Who is going to say, yes, we got it wrong?"
It belied his former life as a mild-mannered chartered accountant - Toovey spent a decade working for Crispen & Geoffrey, a local firm, before coming to training after work. This background has given discipline and a measured approach to coaching, where players are constantly given targets to reach.
"We try to measure plenty of outputs," says Toovey. "If things aren't working you can see where they are going wrong. Players need to know what they are striving for."
Of his Kiwi contingent, Hasler expects big finishes to the year from Joe Galuvao and Steve Matai in particular.
"Joe was one of our best in the run to the grand final last year," says Hasler of the ageless forward, "but he has struggled with injuries all year".
Matai has been hindered, as usual, by injury and suspension, but Toovey denies the centre needs to tone down his approach. "With [high tackles], sometimes it comes down to decision-making and sometimes it comes down to luck," says Toovey. "But I don't want him to change. This is a tough sport played by tough men and that's the way it is."
By Michael Burgess

Email

Michael