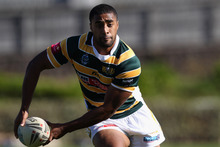 It won't quite be the greatest comeback since Lazarus but Michael Jennings is set to achieve something special this week after his reserve grade game at Mt Smart yesterday.
After the match, he declared his troublesome shoulder "fine" and, if he is named in the NSW side today as expected, he would be the first player to be picked for Origin from reserve grade in 29 years.
The unwanted Penrith star turned out for the Windsor Wolves yesterday, in the humble surroundings of the number two ground at Mt Smart Stadium, in front of 150 people.
In 1983 Manly's Ray Brown was selected for the Blues from reserve grade, as he had then Australian captain Max Krilich ahead of him at Brookvale.
After the game, Jennings admitted that going from the NSW Cup to Origin would be a huge test : "It is going to be a massive step if I get picked but I am ready", said the 24-year old. "I'm not really focused on Origin at the moment I'm just trying to do what's right for the club. I have to worry about club first before I start worrying about Origin."
Jennings was dropped by Ivan Cleary for a combination of form and attitude issues but has since apparently received positive reassurances from Blues coach Ricky Stuart.
"Obviously there is a lot [of focus] on myself but I just need to let my game do the talking," said Jennings. "Obviously it is not the right circumstances but you just have to come down with a positive attitude and get through it and do the job for the team."
His side had a difficult afternoon against a red-hot Vulcans side, who stormed back from an early 18-6 deficit to lead 24-18 at halftime.
Ricky Henry's men cantered away in the second half to win 50-30, with sometime Warriors first grade fullback Glen Fisiiahi crossing for three of their nine tries, against the competition's second-best defensive side.
"I wanted to test out [my shoulder] to see where it was at," says Jennings. "We defended all day and they have some big boys so I was thinking it was going to be a good test. I put my body on the line and it came through well."
Jennings featured on attack and didn't manage a line break, while the much anticipated match-up with Krisnan Inu didn't materialise, as the two NRL stars rarely crossed paths.
The far from salubrious ground is used for secondary school athletics as well as club league - if Jennings had made a sideline dash he would have been perilously close to the two long jump pits that run parallel to the perimeter of the field.
Still the presence of Jennings, who has four NSW caps and is on a reputed $770,000 a year at Penrith, was a thrill for players on both sides.
"It was bit daunting seeing him out there," admitted Vulcans winger Dylan Collier.
"You see him on TV and know what he can do. We tried not to give him too much space to move and the coach told us to get up in his face. He is not as big as I thought but he is obviously very quick and strong. [When I'm watching Origin] I'll be bragging to the mates - I played that guy, I put him on the ground."
"I'm not too sure what the circumstances were surrounding him coming back to us but it is great to have him," said Windsor forward Evrett Vaurasi.
By Michael Burgess

Email

Michael