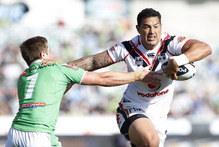 Time will tell just how good Dane Nielsen turns out to be as a Warriors player but his signing speaks volumes for the recent recruitment formula at the club.
There have been periods in the Warriors' history when they have been about as successful with their chequebook as John Banks - but lately they have been getting it right.
Jacob Lillyman, Feleti Mateo, Nathan Friend, James Maloney and (to a lesser extent) Shaun Berrigan all come to mind, while Krisnan Inu remains the frustrating exception.
That quintet have fitted in on and off the field, in terms of character and playing ability, and all indications are that Nielsen will be the same.
The Warriors have become more attractive to Australian players and are becoming better at attracting the right types.
"You don't want to go to a place that hasn't got a big future," says Micheal Luck. "It's probably a more enticing place to come to than maybe it once was. You have to give a rap to management, past and present coaching staff and past and present players for making it a culture where you are welcomed and feel comfortable straight away."
In the early years, the club threw money like confetti on names with big reputations in the twilight of their careers - Greg Alexander, Dennis Betts, Phil Blake, Andy Platt - in a short-term and mostly unsuccessful strategy.
In the late 1990s, they relied on local talent, while in the early 2000s, it was a case of taking anyone they could get, hence players like Scott Pethybridge, Matt Spence and Scott Coxon.
Now there is a sense they know who they want and are more able to get them. Success on the field helps as well, as does the financial stability offered by a stable front office and the capital available from Owen Glenn. The club is seen as professionally run and being based in Auckland is no longer a barrier to being picked for representative teams. Still, there remain obstacles to procuring the best Australian talent.
"A lot of Australians still don't want to come here," says Warriors recruitment manager Dean Bell. "Money does talk and it can be hard to match the third party deals on offer at the big Australian clubs. Also, a lot don't have a great view of Auckland. They arrive, drive to their hotel and then play at Mt Smart, often on a cold day and in the rain. But the ones that do come here end up loving it."
It also helps that the spine of the team is now home-grown, as the Warriors embark on the development route favoured by teams such as the Broncos, Storm and Panthers. Simply put, there is more chance of hitting the target if you know what you are aiming at.
"We want to create our own elite players," says Bell. "But there will always be gaps outside the system. We will look to Australia when we have a position not quite adequately filled but we are confident we can cover most bases from within."
Nielsen reportedly had four clubs chasing his signature but was swayed by the long-term potential of the Warriors.
Once he arrives, it is a matter of fitting in.
"It is an attitude thing," says Luck. "You can come in kicking stones and not go well and I think there have been examples of that in my time at the club. You can pretty much tell those guys straight away reluctant to be here and they have played that way."
Nielsen looks the real deal. Luck describes him as a "solid, consistent defender and a good finisher". Warriors coach Brian McClennan emphasises his Storm background, his ability to understand systems and work ethic.
The only reservation over the 26-year-old Nielsen will be his ability to prosper away from the Storm. Some players have looked world-beaters there - only to be put in the solid but far from spectacular basket when they leave.
History shows that, from the magic trio of Cameron Smith, Billy Slater and Cooper Cronk and the incredible structures they provide, it can be a quick journey from a Mercedes to a Mini.
Steve Turner and Anthony Quinn were both Origin wingers but have not been sighted at that level since moving clubs. Matt King played for Australia, while Ben Cross, Brett White and Antonio Kaufusi hit unprecedented heights while in Melbourne. Kiwi fans will hope it is only temporary but Adam Blair is currently the latest player whose post-Melbourne output is significantly different.
One thing is guaranteed: Nielsen will create a welcome logjam in the centres (although Inu's days look numbered) and a number of options.
It may mean Ben Henry moves into the back row to cover the departures of Luck and Lewis Brown, leaving Nielsen, Konrad Hurrell and Jerome Ropati to jostle for the No 3 and No 4 jerseys.
By Michael Burgess

Email

Michael