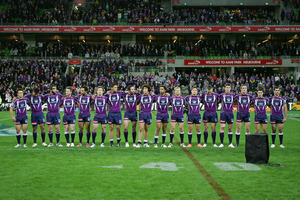 Melbourne Storm coach Craig Bellamy has promised to do something this week he would never usually do before a huge NRL match - ring the opposition coach.
Bellamy's unbeaten Storm will meet third-placed Cronulla on Sunday, with Melbourne aiming to stretch their run to 10 wins in a row.
But the Sharks are likely to be without the services of coach Shane Flanagan as he recovers from surgery this week to correct a twisted bowel.
Flanagan's predicament - he was admitted to hospital on Tuesday night and underwent an emergency operation - has led to Bellamy trying to contact his Sharks opposite number.
The pair are friends and were colleagues when the Sharks coach was Bellamy's assistant for the NSW State of Origin team. "I tried to ring him yesterday but he was probably asleep," Bellamy said on Thursday.
"So I'll try to ring him this arvo. The operation was successful and I'll have a chat to him this arvo without doubt."
Bellamy does not expect the Sharks to be disrupted with experienced assistant Peter Sharp set to take charge for the match at Toyota Stadium.
"With all due respect, we've all got coaching staffs and Peter Sharp - Sharpy's been a first-grade coach here and over in England - so they'd have their systems and procedures in place," Bellamy said.
"It probably wouldn't be a whole heap of change."
Sharp agreed the team were capable of rising above the difficulties of the week.
"It is difficult circumstances. Shane had some issues with his stomach which is unfortunate," Sharp said on Thursday. "But the main concern is Shane is all right. The team will run itself more or less."
The Sharks are also sweating on captain Paul Gallen's fitness because of a knee injury.
"Whether he plays is out of our control. It might be out of their control, too," Bellamy said. "Certainly, we'll be preparing as if he's playing."