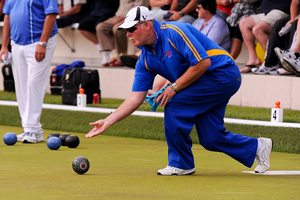 Shaun Scott has won his second national bowls title in style.
The Dunedin bowler has secured the men's singles crown for the second time in three years after beating Danny Delany 21-10 in the final in New Plymouth.
With the match evenly poised at 14-10, Scott picked up seven shots in two ends.
"The three on the second last end were probably the best three bowls I've probably put together for the whole game. I found a length and dominated so that was cool,'' he said.
The women's final between former Black Jack Reen Stratford and local bowler Val McEldowney is in progress.
The men's and women's pairs finals will take place this afternoon.