What makes us hate what our banks have become - then stick with them anyway?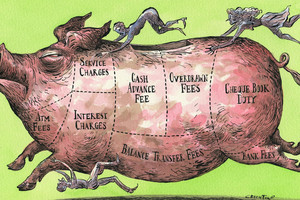 When I was a child, like most children of the 1970s I had a little Post Office Savings Bank account which kept safe the few, paltry dollars I earned through household chores, working at the local dairy and picking and packing tomatoes.
Each week the local postmistress, Miss Lorna Syme, would meticulously count out all the grubby coins and tattered $1 and $2 notes deposited by the children of Patumahoe School, painstakingly recording each transaction both in her own ledger and each of our shabby, frayed deposit books.
Unfortunately for us and Miss Syme, Richard Prebble was soon to assume the wet noodles of power. Patumahoe - like most small towns - lost its Post Office, the children lost their special relationship with their postmistress, and saving was never quite as exciting again.
Perhaps I am romanticising a little. I don't remember saying more than two sentences to Miss Syme in my life. She no doubt found me and my cohorts to be gobby little shites.
The business case for a post-office-cum-savings-bank in a village of around 400 people possibly doesn't bear much scrutiny. Our combined savings would probably have been wiped out by Miss Syme's goodbye morning tea.
But one thing is certainly true: banking became a completely different business between then and now, and few would suggest it is for the better.
Research by Gallup Consulting this month suggested that 34 per cent of 2584 Kiwis surveyed would not recommend their bank to family and friends - a staggering statistic that suggests a third of Kiwis continue giving their business to a bank that they supposedly despise.
A further anomaly arises when you consider that although 80 per cent of us think Kiwibank is a national treasure, and consistently rate it as the most liked bank for service and competitive offers (and advertising, I reckon), it has not yet managed to crack more than 10 per cent of the retail market or 4 per cent of the small business market.
In short, the bulk of us labour on with banks we feel - rightly or wrongly - treat us shabbily and rort us senseless.
Granted, there has been a lot of negative press in the intervening years - tales of bankers living high on the hog, or enormous profits being shunted back to overseas investors as Mum and Dad Jones in New Zealand struggle to pay exorbitant fees on their nest egg.
But can these factors in themselves account for the fact that many of those surveyed saw banks as a "necessary evil"? Is it a feeling against bank management; banking in general, even, that people are reflecting in this survey, or has everyday bank service become more impersonal and unsatisfying?
From where I am sitting, it seems to me that banks are working harder than ever to engage their customers, even if they are going about it in a cack-handed fashion. My bank is forever suggesting changes to accounts, sending me text messages to warn me I'm overdrawn (while helping themselves to a hefty slice of my future earnings to punish me for my financial incompetence), suggesting this life insurance and that KiwiSaver account, and giving my children large yellow elephant money boxes. If I'm not engaged, I'm at least in a long-term, monogamous relationship.
Which is, of course, language that none of us would have dreamed of using towards the Post Office of old, where deposit books were king and the postmistress simply took our money, put it in the safe, and wished us a happy day. Simpler times, those.