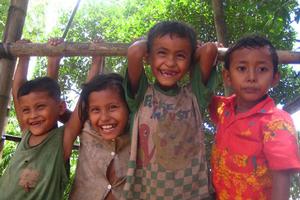 In Cambodia, when it rains, it pours.
In the week since Sanna and I arrived, we have become accustomed to flooded streets, wet feet and the constant roar of torrential rain on tin roofs.
When the sun occasionally appears it is blistering in its intensity, driving you under cover as fast as the rain.
Cambodians are used to such extremes.
Even with flooding reported around the country, people appear relaxed and happy. Whether peeping out from under plastic ponchos or paddling across inundated fields in canoes, they are always quick to wave, smile and yell "hello!"
We were aware that there are only "wet" and "dry" seasons here, but we just didn't take it so literally.
Now, after absorbing some of the culture and a lot of moisture, this bi-polar weather seems almost appropriate, even symbolic.
For me, it is a country of duelling extremes, where you are confronted by both a smile and a slap in the face.
First, there are the ruins of Angkor. You can see them on the national beer, the flag, and the currency, but nothing prepares you for actually gazing up at the stone towers, shoulder to shoulder with thousands of other tourists, as the sun rises behind them.
Towering above the jungle and featuring kilometers of intricately detailed carvings, they are arguably the most spectacular ruins on the planet.
Contrasting the glory of Angkor, are the concrete pillars and barbed wire of Tuol Sleng, the former torture centre and now genocide museum in Phnom Penh.
Instead of the bass reliefs of the temples, haunting its walls are the photos of some of the 20,000 men, women and children who were brought here, tortured and later murdered in the "killing fields" of Choeung Ek.
At the foot of a tall tree in these green fields, next to one of the 19,400 mass graves that litter this country like landmines, is a small plaque. In broken English it explains how the Khmer Rouge would smash the skulls of babies against its trunk, before dumping them in the pit with their mothers.
Between 1975 and 1979, somewhere between one and two million of Cambodia's eight million people were murdered or starved to death by the Khmer Rouge regime.
Just as no ruins have impressed me more than those at Angkor, nothing has saddened me as much as the stories of those who suffered during this period.
In Phnom Penh cafes popular with tourists, children sell photocopies of local English language newspapers and popular books.
Before I was told that many of these kids are effectively slave labour, I would happily pay the inflated prices for the Cambodia Daily to read about the floods and the Khmer Rouge trial.
Even for a tourist, the news is infuriating.
Despite the fact the crimes happened 30 years ago, as yet there has been no justice for any of the victims.
Almost without exception, those responsible deny any culpability, claiming they did not know of the atrocities or that they were only following orders.
Although only five leaders of the regime are currently on trial, almost every day a prominent person from the Government or army warns that any new trials will lead to more bloodshed.
Cambodia has had no Nuremberg. In a country that ranks as one of the most corrupt in the world, the powerful in society often comment that everyone should forget about the past and move on, as if it was a stubbed toe.
When I walk around the wet streets, smiling at the incredibly friendly little kids that are everywhere, it is hard not to think of that tree.
When an old man jokes with us in his tuk-tuk, I can't help wondering what his past is. What horrors has he seen?
Was he a victim, a callous murderer, or just one of the lucky peasants that the Revolution deemed worthy of living?
In Siem Reap, when we first arrived, the tourists we spoke to who had come from Phnom Penh, told us how sadness permeated their stay here.
At the time I thought their sentiments sounded a little forced. I was aware of the history they were referring to but was overwhelmed by the rich, cheerful spirit of this country.
After just a week here, I now understand what they meant.
It is not just the terrible recent history that slaps you in the face, but the present.
From the old men shamelessly sitting in cafes with underage girls, to the landmine victims begging in the street, Cambodia is a depressing place.
And yet, even in this torrential downpour, smiles and laughter are everywhere.
Just as Cambodia is a tour through the darkest side of human nature, it is also living testament to the spirit's ability to overcome.
For me, it is a country of extremes: Infuriating and depressing; easy to enjoy, but difficult to understand.
- Matt Kennedy-Good
Click here for photos.
Pictured above: Kids on an island in the Mekong River. Photo / Matt Kennedy-Good