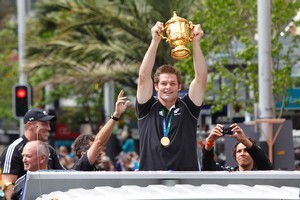 As a final footnote to what has been a wonderful Rugby World Cup, I'd like to present my own awards to those people and events that the IRB missed in their black-tie gala event on Monday night.
Best moment: Undoubtedly Richie lifting the Webb Ellis trophy above his head at Eden Park last Sunday night to the roars and cheers of a nation. Magic.
Worst moment: The sending off of Sam Warburton, whose rush of blood to the head ruined what could have been a great semi. Honourable mention: Those final 15 minutes watching the clock wind down in the final.
Best supporters: The volunteers. Those 7000 people from all walks of life who gave up a month to help make this the friendliest and most well run tournament yet. Honorable mentions: Irish supporters - put one in a room and you had a party.
Worst supporters: Well, we COULD have been had we lost but there weren't really any nasty ones. I'll excuse the French fans some of their vitriol because they were rarked up by media calling them cheats in the game lead-up.
Cinderella story of the cup: Stephen Donald. Honorable mention: Aaron Cruden and the Tongan rugby team for their win over France.
Man of the match: Martin Snedden for ensuring that the promises made when we bid for the Cup were delivered by the stadium of four million.