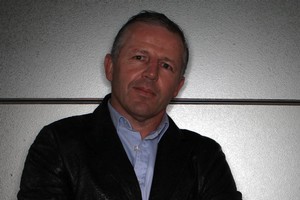 I do wish corporate sponsors of the All Blacks would just write the cheques then leave the bloody team alone.
Fair enough that you get to use the lads in your adverts. Fine that you force the ABs to attend boring cocktail functions where they have to press the flesh with you and your most important clients. And reasonable you get the best seats for all the important games.
You've put up the big bucks - you're entitled to some perks. But honestly, trying to contort the All Blacks and their fans' passion for the team and the game into corporate shenanigans is never going to work.
Plenty of ad agencies have tried to infuse a manufactured sense of fun into the population and have failed miserably and now Saatchi and Saatchi and Telecom have done it again.
The awful Abstain for the Game campaign has done to All Black great Sean Fitzpatrick what many a Wallaby and Springbok failed to do - made him look like a fool.
The All Black management team has been forced to issue lukewarm support for their sponsors - first adidas and then Telecom - while privately they must have been wondering what they'd signed up for.
And it's no good the slick, sharp creatives from the ad agencies consoling themselves with the thought that their idea was TOO brilliant and TOO cutting edge for the rabble to get it. If we don't get it, you don't have a contract.
Still, there is an upside. This time last World Cup, the controversy was all around the rotation and resting policy and the All Black combinations.
While the sponsors take the heat, at least the All Blacks are left to rotate in peace.