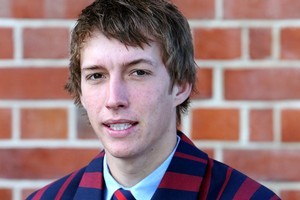 The case of Luke Bradley whipped my talkback callers into a frenzy this week. Luke is the head boy of Hastings Boys' High, a boy described by his principal as an excellent all-rounder and a great kid.
He's also a convicted drink-driver.
Luke, 17, crashed his car into a stream after it failed to take a bend. When he was breath-tested after the accident he returned a breath alcohol level of 186mcg. The legal limit for drivers aged under 20 is 150mcg.
In the Hastings District Court last month he was convicted and discharged of careless driving and was convicted and sentenced to three months' disqualification on the drink-driving charge.
But it's the school's decision to let Luke keep his head boy's badge that has divided opinion.
Some parents at the school are outraged and say it sends the wrong message to kids - and they wondered whether Luke's connections to the school had some bearing on the board of trustees' decision to retain him in his position.
Luke's dad is on the board; Luke's mum works as the school administrator. Principal Rob Sturch said Luke's parents had nothing to do with the board's decision, which came after a great deal of debate.
Sturch said Luke had made 2000 right decisions and one bad one and he had been punished enough.
He would be used to spread the anti drink-drive message at the school as an example of what could happen when you make the wrong call.
On Friday Luke addressed the school and said he would have to work hard to make up for his mistake and regain the trust and respect of his peers and teachers.
The general consensus seems to be he should have handed in his badge.
In many careers and positions, there are consequences and punishments beyond the legal ones for those convicted of drink-driving and Luke's position is one of them.
He has shown a lack of leadership by not stepping down and the school has let him and its students down by not making that decision for him.