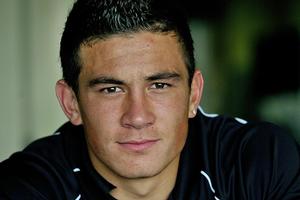 Sonny Bill Williams has made his decision. Farewell to the $6 million man; here comes the man in black.
Sonny Bill confirmed one of the worst-kept secrets in sport on The Footy Show this week, which was somewhat bizarre given that he'd walked out on the Canterbury Bulldogs several years ago to take up the Toulon contract.
Turning his back on a $6m contract with the Toulon Rugby Club for the chance to wear the All Black jersey is a huge compliment to the All Black brand.
You'd have thought Steve Tew would have wanted to parade this prime catch to the grumpy New Zealand sports media and bask in the reflected glory. But no, Sony Bill made the announcement on an Aussie league show, looking confident he'd made the right choice.
There are no guarantees he will wear the black jersey. He knows he has to prove himself. But he also knows his chances are looking good.
I don't know whether he will be the player to reignite the team to claim the Rugby World Cup. But it's a morale booster when a talented young player believes that the silver fern is more valuable than a gold-plated French contract.