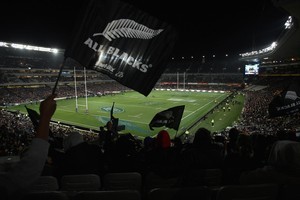 I tried to get my reclusive Irishman out of the La-Z-Boy and into a seat at Eden Park for the Bledisloe Cup game last week, but he wasn't having a bar of it.
His rationale was that a person would have to be mad to brave the crowds, the queues and the cold to watch the footy when they could be at home watching it on Sky - home-cooked lamb shanks served on a TV tray and a beer fridge stocked and within easy reach.
However, when he saw the park, packed to the rafters and lit up like a real stadium, and heard the crowd in full cry, he understood why I wanted to be there. We'll go next time, he promised, which I took as tacit consent to go ahead and book another couple of World Cup tickets.
We've got them for the Ireland-Australia game at Eden Park - I reckon that will be a cracker. I've ordered a couple of leprechaun hats that come complete with attached red beards and moustaches, which I'm insisting we wear at the ground. Even if the Irish lose - and let's face it, it'd be an upset of Samoan-Welsh proportions if they beat the Aussies - at least our costumes will be a passport into the great Irish parties that will be happening around the town, win or lose.
I'd been dithering about whether to get tickets to the quarters but once I saw Eden Park, I knew I had to be there.
It's a shame that the quake destroyed the opportunity for Christchurch to host the quarters at their stadium but hopefully Aucklanders can do them proud and pack out the park as the Cantabs most certainly would have done.
Everyone who was at Eden Park last Saturday night said the atmosphere was fantastic and the players appreciated the lift a home chant can give them.
Those of us who have seen World Cup rugby since its inception know that the All Blacks are going to need every bit of help that they can get. A passionate home crowd may well get them over the line, metaphorically and literally.