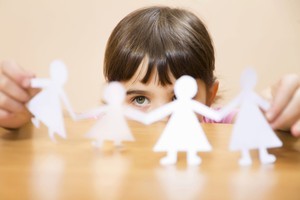 I am accustomed to being hailed from the other side of the house to the cries of "mummy! mummy!", but by now, I know I'm not the character in the house that goes by that name.

"Not you Mummy, this mummy" the kids will often say, brandishing a rubber duck with a tiara, or a little dolly, or even spider-man, on occasion.

But the 'mummy' games have kicked into high gear recently, because my daughter has decided that she actually has a 'real mummy', a 'real family' and a whole other reality, and it's a remarkably consistent story she's stuck with over several months now.

She has said many times her 'real' mother died a while back when she hit her head really hard (she was living in Australia at the time.) But she still has her other real brothers, sister and father. They're quite a nice bunch, apparently.

At first I didn't give it much thought, but it did intrigue me that the story remained the same over several conversations and time frames - not all that common with the usual 2-3 year old fantasy tale.

Are you sure, I asked her, that your real family aren't like your make-believe friends Plaze, Clays, Sloughder, Humper, Flingshot and Fla?

No, she said adamantly. And with such certainty, it gave me a jolt. Because it just so happened a few months ago I caught a very late programme on the documentary channel in which a very young boy had talked about his "real family" over a matter of years, not just months, and gave an enormous detailed accounts of all of their lives. He'd even cried several times when his "real" mum didn't come and pick him up after school.

His mother and father hadn't believed in psychics or contacting the dead or anything of that nature, but had become so exasperated with the story that they had contacted an American academic with an interest in the field.
This man had travelled to Glasgow in Scotland, where the family lived, and taken the boy and his mother to an island in the remote, northern part of Scotland the boy had described to a T.
At first, asking around the local authorities, the mother and the professor had not turned up any details that matched the little boy's 'recollections'. But as they were about to give up, they unearthed evidence of a family -long gone - by the name mentioned by the little boy who lived in the house he described, on the part of the island he described. Visiting the house, the boy looked shocked and distressed but continued with his account - "we played over there, we slept over there" etc.

Not all his details matched the records on this long-departed family, but enough did to suggest something seriously spooky was going on. Nevertheless, as is apparently quite common in these kinds of cases, the boy had been much happier on his return to his home Glasgow and had barely mentioned his "real" family again.

I don't seriously believe my daughter is seeing things, or has knowledge of spirits or anything. I don't think? She's probably weaved some factual details (my dead mother, my sisters in Australia and the like) into a rich fantasy. Apparently, many little girls have "real families" they discuss so perhaps it is nothing unusual.

Nevertheless, it can be a bit spooky when it comes up all the time. Not to mention the competitive element of having another 'mother' you are constantly compared to!