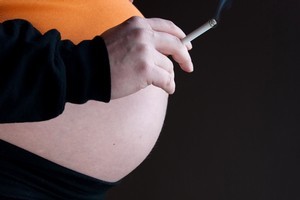 The first results from a study of 7000 Auckland and Waikato babies are out, and they show that 11 per cent of women smoke throughout their pregnancies.
The Growing Up in New Zealand longitudinal study suggests that while many of these expectant mums cut back on their tobacco, they were still smoking around 8 each day.
Maori women, those living in poorer areas, and those without significant educational attainment were over-represented in the number.
Whatever the mitigating factors, it's certainly not fair to make your little baby smoke cigarettes - it's plain wrong.
And I suppose the same kind of person who doesn't care about the small birthweight issue won't pay a jot of notice to news out of the UK this week, that smoking during pregnancy increases the risk of that child turning to crime: cigarette smoking, apparently, has now been found to cause negative changes in the developing brain.
Having said all that, I am no wowser on the issue of smoking.
I detest being bashed over the head with anti-smoking rhetoric at every turn. And I was a smoker - all through my 20s, not a heavy smoker, but a committed social smoker.
And then I got pregnant, and quit. Like many female smokers.
I didn't love it so much that I would force the habit on my unborn child. Not only that, but I'm basically a goody two-shoes. And an asthmatic.
There are some women who are so addicted, so nihilistic, I guess, that they would keep smoking through their pregnancies, and in fact there are some who go on to produce perfectly healthy babies. These women, too, know they run the risk of harming their babies. They don't respond to the same messaging other people do, for whatever reason.
So perhaps now is the time to re-think the millions spent on smoking prevention. Accept the fact that there will always be a smoking hardcore. As most smokers pay for their healthcare by taxes on tobacco, and further, remove themselves from the picture altogether at a much younger age, freeing up the healthcare system for non-smokers, they should be left alone.
I reckon we might get better value for money by stopping general anti-smoking messaging altogether - while providing the already-excellent Quitline services for those who really do want to stop - and only focus, and focus intensively, on preventing pregnant women and teens from smoking.
Perhaps pregnant women seeing their healthcare provider for the first time could automatically be assigned a quit-smoking counsellor, or prescribed a funded course of anti-smoking acupuncture or even hypnotism.
A new approach to these hardcore smokers certainly seems called for.