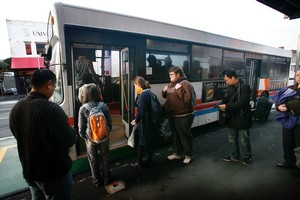 I have to admit that when I project into the future and think about how things might pan out, I quite like the idea that perhaps one of my children will choose to stay living in New Zealand - close to us, if we are still here at that stage.
It's a selfish desire for sure, but one that I believe I share with most parents, even those who proclaim themselves totally at ease with having children living on the other side of the world (a situation so familiar to many).
Auckland specifically will have to be world class to keep up with the best drawcards around the world, and although it is getting better, it is not there yet.
This is particularly so with our city's public transport system, which, while vastly improved on a decade ago, is erratically provided outside the main city routes.
There is absolutely no reason why this should be so.
As a student around the 1993-4 mark, it was abundantly clear to me and everyone else that the city was starting to swell with Asian immigrants. These people not only brought money, colour and much better food to Auckland, but they also came from cities where public transport was the most common, efficient option for getting around.
It is gob-smacking that real efforts to get a brilliant public transport system didn't start right then, when it was abundantly clear that the need was on our doorstep.
How shocked those newcomers must have been with the sorry state of things. A 45-minute trip from Epsom through Newmarket to the city; even longer from Remuera.
Dominion Rd, where I lived for the bulk of my student days, was an absolute nightmare at any time of the day.
Things have improved, but we are far from world-class. The best cities in the world not only prioritise safe, efficient public transport above all else, but actually think laterally about how to provide point-to-point service.
Examples of this include the Hong Kong express train that allows you to drop your luggage in the centre of the city and ride unencumbered to the airport.
In Toronto, you don't have to plan everything around going into the middle of the city and then out again - you can travel quite easily across town. The roads are much more congested and the conditions often more trying - heavy snow, for example - but somehow the journey always seemed easier.
In most Australian transport carriages, ample room is provided for parents and strollers, and having young children - even in rush hour - is no impediment to getting around.
In New Zealand we often say that we're wedded to our cars, and perhaps that is true to an extent. But there has not really been any consistent effort to get people out of their cars and using public transport and this is squarely the fault of city authorities who have engaged the services of antagonistic transport companies and prioritised roads above all else.
The upcoming Super City mayoralty race should not be about who is nice and who is not; who's a great father or not, and who throws out pat lines better than the other.
For me it is squarely about a candidate with different ideas for Auckland; one who is looking to ensure Auckland will be "future proof", with an emphasis on innovative public transport, over roads, roads and more ugly, congested roads.
Once he's in, Aucklanders will finally have to ditch the excuses.
It will up to us to ensure we hold his feet to the fire to make our public transport system the very best it can be.