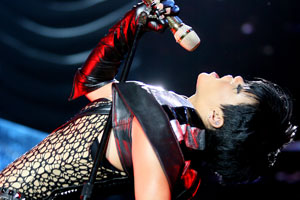 Racing to the couch to catch Coronation Street one night last week, I missed my favourite soap but - determined to eke out at least an hour of TV viewing in my week, I ended up watching a documentary about the Saudi Royal Family.
It was incredibly interesting. A British film crew had followed the current governor of Arabia's Ha'il province, the country's "breadbasket", Prince Saud Bin Abdul Mohsen Bin Abdul Aziz al Saud.
The Prince is a nephew of the Kingdom's head, King Abdullah, and has four wives and ten children (none of whom were shown in the documentary, as most Saudis don't want women to be filmed, especially by foreign documentary crews).
The main reason for the documentary seemed to be a platform for the Prince to refute talk in the West that Saudi Arabia was some kind of backwards-looking feudal society, such as it is often portrayed.
The Prince took the film crew to his various councils where anyone in the land can have their grievances heard.
He also took the crew falconing (one of his favourite past-times) and they watched him play table-tennis, decked to the nines in all manner of the latest and best Nike gear.
Of course, this comes across as all well and good until it comes to catching glimpses of the kingdom's women. Most in the conservative area of Ha'il, even the few who work alongside men in the areas of teaching or medicine, must wear veils that cover every inch of their bodies (on some it looked as though their eyes were covered as well).
As a Western woman it is hard to take these kinds of scenes, even if you do tend to be a live and let live type.
I know as a mother I would be devastated if my daughter chose to live her life under a veil, being forcibly separated from 50 per cent of the population and not being allowed to drive.
On the other hand, the Prince made some salient comments about Western culture, and why adopting Western culture hollus-bollus is not desirable by many in Saudi Arabia or indeed other countries in the world. The pursuit of money over everything else was one Western cultural "norm" he rejected - although it's a little rich coming from such a stupendously wealthy man.
He didn't particularly mention the highly sexualised culture Western women seemed to be steeped in, but the implication was there.
There is no doubt Western daughters grow up marketed to by an aggressive consumer culture where seemingly everything comes down to being sexually attractive. And the loss of sexual attractiveness makes you almost invisible.
Add to that music videos and the associated goods and services that portray women as little more than sexual playthings and the pop stars who, regardless of their ages, look like hookers. The only bulwark against this onslaught is to build genuine self-esteem in young girls - never an easy task.
Bloody hell, she sits down to watch a doco about a far off land and ends up thinking about the toxicity of Playboy bunnies, you might say.
Well, it's hard not to. Because no matter how much you would hate your daughter to end up in a veil, no matter how much you would like her to enjoy her life, and her freedoms - including her sexual freedoms - there is one thing worse than your daughter converting to the strictest form of Islam. And that would be - no matter how sexually liberated you think yourself - your daughter becoming a stripper, or a hooker, or an extra in an R'n'B music video.