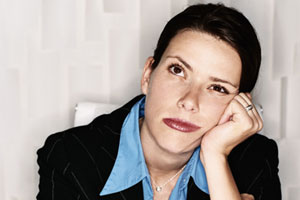 There seems to be a seachange in the public discourse around working women recently.
It's been particularly hot in Britain, where Jill Berry, the headmistress of a pretty exclusive girl-only school has dropped a bomb by saying that a generation of girls will be "failed" if they are told they can have it all.
It's a bomb because it goes against the prevailing orthodoxy of the past 20 years, which is essentially that not only can you have the family you want, when you want, but also the career you want, all at the same time.
Surely, many women would claim they have exactly that - even myself.
I work two days a week, am at home for five, and have a great deal of help with the kids from my husband when he's not working.
I can afford to have in-home care for the days I am not here, with someone who has known the kids for a long time.
Truly I am lucky. My kids are too. But there's still a feeling that perhaps I could be doing better by everyone. And I am relatively guilt-free compared with many of the women I know, who have constant feelings of inadequacy as mothers - and often too, as workers - as they try and negotiate hugely hectic lives.
I do wonder if this is perhaps just a common female feeling, because it seems to me that any thinking women these days is second guessing herself, whethere she's at home, at work, or in between.
Is a nagging sense of guilt a luxury of women who have lots of money, a good education and a seemingly never-ending array of choices?
As Jill Berry - who maintains she is very ambitious, and has no children herself says: "In short, we are our own worst enemies. We push ourselves to the brink and then beat ourselves up because we're not perfect. That's why it's so important that we teach our girls that they have a right to be happy and that they're not failing if they choose motherhood over their careers.
"Yes, we women can make it to the top. But think very carefully about the price you may have to pay."
- Dita De Boni

Pictured above: Juggling kids and a career can leave women with a nagging sense of guilt. Photo / Getty Images