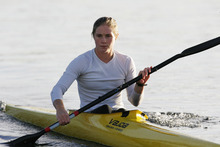 New Zealand paddler Teneale Hatton's Olympic prospects are in the balance after she finished sixth in the K1 500 B final at the canoe world cup in Germany tonight.
The sixth place comes a week after Hatton finished fourth in the B final at the first world cup event in Poland, leaving her on the cusp of selection for the Games.
Canoe Racing New Zealand chief executive Paul Kearns said Hatton's recent performances have warranted her nomination, but her ticket to London will be entirely in the hands of the New Zealand Olympic Committee.
With the NZOC requiring top 16 potential from athletes seeking selection, Hatton's last two results - unofficially ranking her 13th and 15th in the discipline - demonstrate just that.
But her spot is far from secure, as results from last year's world championships where Hatton finished 19th are in play, and Kearns said she would have liked a top half placing in tonight's race.
Kearns saw Hatton, having only recently switched to the sport from surf lifesaving, as one for the future but thought the 22-year-old's recent results justified her presence at this year's Olympics.
"She's certainly putting in a very consistent performance, so we're really pleased with how she's going," Kearns said. "We'll definitely be pushing very hard for her nomination, because she's an athlete who's going to have a lot of talent.
"And not just at these Olympics Games but 2016 - we're taking a pretty long term view."
Kearns said she felt "pretty positive" about Hatton's potential nomination, with the latest calculations confirming her top 16 potential.
"With the paddlers that we've seen she's competing against, that's a pretty good indication that she's right up there in that top 16 band," Kearns said.
"Our high performance manager has done some work around that, and it certainly puts her up with the other world-ranked athletes. So that assists our case that we'll put forward to the NZOC."
Once the formality of putting forward Hatton's name is complete, Kearns wanted the selection either confirmed or denied by the NZOC as soon as possible, allowing the Ian Ferguson-coached paddler to remain in Europe to train with the rest of the New Zealand team.
Hatton's fellow Kiwi paddlers are far less focused on results in Germany, considering the five boats qualified for London are in the middle of their Olympic preparations, but they are still seeking strong performances with the Games only two months away.
Former world champion Ben Fouhy got nothing resembling that in the K1 1000m, as the 33-year-old withdrew from tonight's C final in the K1 1000. That left him with few positives to take from two world cup events, after an eighth place finish in the B final in Poland last weekend.
The men's K2 1000 combination of Steven Ferguson and Darryl Fitzgerald had a far happier time, winning the B final by more than two seconds.
The pair impressed with a controlled and well-paced race, moving in front by the 600m mark, and were never threatened. The promising performance followed a fourth place finish in the B final in Poland, a result with which the pair were satisfied considering it was their first hit out in Europe.
World champion Lisa Carrington was edged by the well-performed Hungarian Natash Douchev-Janics in her K1 200 semifinal, with the pair set to go head-to-head in tonight's A final.
Carrington and Erin Taylor also began their K2 500 campaign, but drew a strong semifinal and had to settle for a B final berth tonight.

- APNZ
By Kris Shannon

Email

Kris