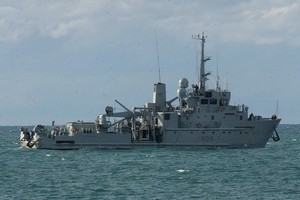 A 3km trail of fish was found floating in the sea after a commercial fishing net became separated from a fishing boat in the Hauraki Gulf, the Ministry of Fisheries says.
The net was spotted on Tuesday morning, drifting about 2.5 nautical miles south of Kawau Island, ministry field operations manager Greg Keys said.
The net contained a "considerable quantity" of fish, up to 10 tonnes, and the surrounding area was littered with floating fish - mainly snapper, he said.
A ministry patrol vessel, along with the New Zealand Defence Force's HMNZS Hawea, which was in the area, and a Seasprite helicopter were dispatched to find the net.
Hawea had to call in the help of the HMNZS Manawanui to haul the net out of the sea because of the weight of the fish.
Mr Keys told NZPA the ministry had spoken to the skipper of the vessel believed to have lost the net, and investigations were continuing.
He said some of the fish recovered had still been alive and were returned to the sea, while dead fish had been returned to the "food chain".
- NZPA