Marine Recreational Forecasts - Kapiti
5:18 PM February 22, 2017
Area Description:
Inshore waters from Waitarere to Pukerua Bay and out to Kapiti Island.
Situation:
A high southeast of New Zealand extends a ridge onto the North Island. A weak front crosses the area overnight tonight then another ridge begins to build over the country on Thursday. Another front crosses the area on Sunday.
Warnings:
NIL warnings for COOK and STEPHENS
Forecast:
Wednesday: Northerly 10 knots but 15 knots south of Otaki, easing to variable 5 knots everywhere this evening. Sea slight. Fine weather. Thursday: Southerly 15 knots developing early morning, turning southeast 15 knots in the afternoon. Sea slight. Morning cloud, then fine.
Outlook:
Outlook until midnight Sunday: Friday: Easing to variable 5 knots early morning. Southwest 15 knots developing in the afternoon, dying out in the evening. Fine weather. Saturday: Northerly 15 knots developing. Fine at first, but becoming cloudy in the evening. Sunday: Changing southerly 15 knots. Cloudy periods, chance shower.
Swell:
Swell forecast to midnight Sunday: Northwest half a metre or less.
Moon Phases
Feb 18
Last Quarter
Feb 26
New Moon
Mar 05
First Quarter
Mar 12
Full Moon
Isobaric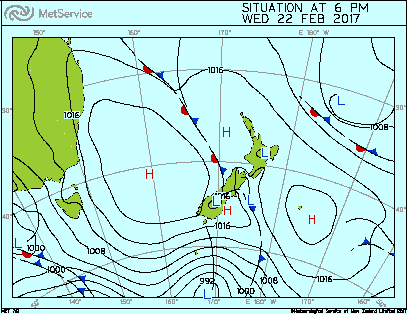 February 22, 2017
Satellite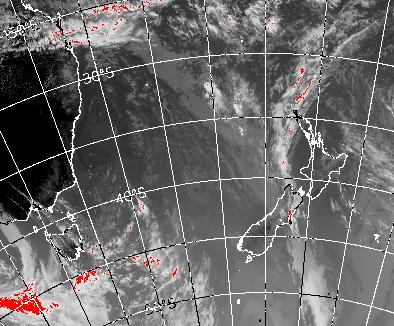 February 22, 2017
For more detailed weather information visit