Hardy and easy to grow, dahlias are making a comeback among gardeners who know how much they offer to different garden styles and conditions.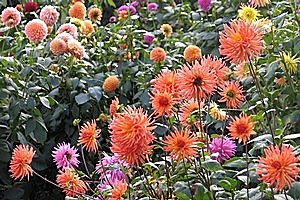 Brightly coloured and in your face, dahlias are an absolute riot in the summer with big showy blooms falling about like some jolly drunk.
This fiesta of colour is not the reserve of the more experienced gardener.
Dahlias are hardy and easy to grow as well as being relatively tidy, and will survive a surprising amount of mistreatment.
The flowers are native to Central America but have proven a spectacular success in New Zealand gardens. Flowering atop a pipe-like stem, the key to their success lies just beneath the soil.
Dahlias form tubers resembling a kumara which lay dormant over winter after the top of the plant has died back. These tubers make the dahlia easy to propagate and provide a reservoir of nutrition to help keep them at peak performance come summer.
Dahlias tolerate most soil types and growing conditions but, if possible, plant in a sunny, sheltered position in a light, free draining soil and water well during the drier months.
If it's a bit shady, sunny, sandy or heavy you'll still get great results, but if it gets too wet you may find your tubers get attacked by nasties, so avoid clay soil.
The easiest way to propagate a dahlia is by separating some tubers from an existing bunch (or go to Bunnings and buy one in a pot).
To split up your tubers, gently loosen the soil around the outside of the clump with a garden fork and lift.
When you have a good selection of tubers out of the ground, remove the biggest ones. These may look impressive but their tough, leathery skin suppresses the proliferation of new shoots, while younger tubers will really lay it on.
Although it's getting a little late to be separating your tubers now, these chaps are so hardy that if you're gentle you won't have many problems.
You can also propagate dahlias from seed and this offers you the excitement of creating completely new varieties. Dahlias have eight sets of chromosomes, which is plenty in plant terms (just think about how many Lotto numbers there are and that will give you an idea of the endless possibilities of colour and shape).
Too long dismissed as a nana plant, dahlias are making a comeback among gardeners who know how much they offer to different garden styles and conditions.
Besides all that, dahlias will make you smile - I promise.
Planting dahlias
* Once you've selected your tubers, dig a shallow bowl-shaped hole about 6-10cm deep.
* Line with compost or plant mix, then lay the tuber on its side so it looks a bit like a finger or a badly rolled cigar.
* Now is a good time to put in a robust stake. Dahlia flowers can get far too big for their stem to support, so putting in a stake now means you won't disturb the tubers beneath the soil later.
* Cover the tuber with some plant mix or fresh soil and water.
* Justin Newcombe is a landscape gardener and Life's Back Yard columnist. For more information see landscapesafari.co.nz.