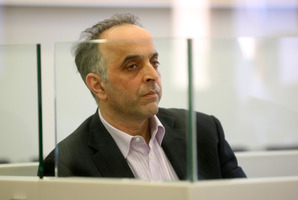 A victim of Loizos Michaels clapped as the "brazen" conman was led into the cells.
Loizos Michaels convinced casino executives, moteliers and All Black great Jonah Lomu that he was a wealthy businessman backed by overseas interests in $3 million of fraud offending.
But today Judge Christopher Field effectively dismissed the conman's version of events and found him guilty of 30 deception charges brought by the Serious Fraud Office (SFO) after an eight-week trial at the Auckland District Court.
Judge Field said he did not accept Michaels' evidence that all the Crown witnesses were liars.
"The person who has been telling lies is Mr Michaels."
He said anyone who dared to give evidence against Michaels, including his estranged wife, became the victim of a personal attack.
The 45-year-old had maintained he had lost money in a scheme led by Christchurch Casino executives who were planning a takeover of SkyCity.
But Judge Field said Michaels' evidence was "completely incredible".
He said the conman was able to create a climate of "psychological dependence" and took in educated people.
One of his victims who was in the public gallery to see Michaels convicted stood at the end of the hearing to clap as Michaels was led into the cells.
In a statement from the SFO, acting chief executive Simon McArley described Michaels as a "hazard to the community".
"While Mr Michaels' case is highly colourful, it would be a mistake to assume that it is representative of the majority of financial crime."
In her closing address on Tuesday, Crown prosecutor Christine Gordon SC told the court it was Michaels who carried out "bold frauds on a grand scale".
"He played a brazen scam at the highest level, manipulating those he came across to either gain more profile or more cash or both."
The Crown said Michaels scammed investors in an Australian film studio before travelling to New Zealand.
The former chief executive of Christchurch Casino Stephen Lyttelton told the court he met Michaels after a complaint about staff and the quality of the casino's macchiato espresso.
Michaels and a friend had lost $160,000 in the space of two months on the pokie machines but their bad luck also won them the rights to VIP status including free accommodation.
Mr Lyttelton said Michaels spoke of ties to Melco - a high-powered casino outfit based in Macau. He also claimed to be a "corporate raider" carrying out due diligence on SkyCity and offered Mr Lyttelton a role with the company.
The salary started at $1m but soon ballooned to $12m. Mr Lyttelton was also persuaded to bring his gaming manager Peter Arbuckle on board.
Mr Lyttelton said Michaels then began asking him to put some "skin in the game" and invest with Melco and in Michaels' own plans that included a casino at Gulf Harbour, north of Auckland and an online gambling website.
The demands for money kept coming and Mr Lyttelton and Mr Arbuckle ended up handing over a combined total of $2.5m. Along the way the pair ran out of money and were told to approach friends and family.
One of those friends was rich-lister and National Party President Peter Goodfellow who before meeting Michaels, agreed to lend his longtime friend Mr Lyttelton $114,000.
But during a lunchtime meeting at an upmarket eatery at Auckland's Viaduct, Mr Goodfellow began to doubt Michaels' stories.
"I noticed his clothes were not particularly sharp and his shoes were scruffy, and this was a man who said he had connections with one of the most wealthier families in Asia ... It just didn't add up," Mr Goodfellow told the court.
Another of Michaels' schemes involved a ruse to buy luxury lakeside apartments in Taupo from co-owner Janet Jackson.
Mrs Jackson told the court she was persuaded by Michaels to buy the apartments from her co-owners - then sell them to Michaels.
She said Michaels told her his money was in a Belgian bank account and his backers needed some security. He allegedly convinced her to make several payments worth more than $353,000 to ensure the sales.
At one point Michaels added All Black great Jonah Lomu's name to the sale and purchase agreement of the apartments.
Michaels met Lomu at a Wellington cafe through a mutual friend and promised the rugby star a $15m contract to front his global kick-boxing tournament.
But after numerous meetings at Michaels' Greek restaurant on Auckland's Ponsonby Rd, nothing came of the competition and Lomu walked away.
Lomu said Michaels had dragged his name through "rubbish".
"You know, I spent my whole f***ing life building up my reputation on my name and for someone to walk into my life and try and do that, hell no."
MIchaels spent a week in the witness box as he gave evidence in his own defence.
He told the court he had access to millions of dollars from his father's inheritance but was taken in by Mr Lyttelton who was involved in the SkyCity takeover.
Michaels also pointed the finger at his estranged wife, and made baseless claims that the bank was involved in a money laundering conspiracy. He also slung accusations at the SFO, alleging that witnesses had been coached.
In the end Judge Field took three days to determine Michaels' guilt. He remanded Michaels in custody until he is sentenced next month.
- APNZ