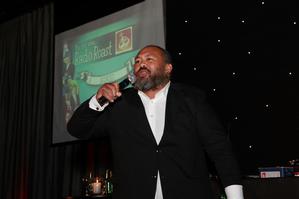 One of the creators of the iconic television show bro'Town has apologised for racist and homophobic remarks he made at a media event in Auckland on Wednesday.
David Fane told an audience which included Jason Gunn, Mike Hosking, Kate Hawkesby and John Tamihere at the inaugural Radio Roast that "Hitler had a right" and HIV sufferers deserved to be "roasted" and "Jews were expendable".
Tonight he told TV3 his comments were "dumb".
"I really am so very sorry for any offence I've caused you," he said.
"They were dumb words, said by a dumb man."
Fane, who is also known for his film and TV roles including Outrageous Fortune, Sione's Wedding and Radiradirah and hosts a breakfast show on radio station Flava, told TV3 his comments were a "stupid, stupid mistake".
New Zealand Jewish Council president Stephen Goodman said Fane's apology supported his contention that it was simply a stupid act with no anti-semitic intent.
"It was just somebody getting carried away with the situation and saying silly things," Mr Goodman told TV3.
- NZPA