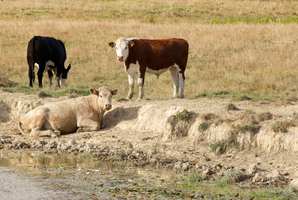 What next? A plague of locusts? Or frogs? Or boils? With half of the North Island officially deemed drought-affected - and the remainder fast heading that way - Bill English must be asking himself what he did in some past life to have seemingly so incensed the forces of nature.
Along with trying to minimise the impact on New Zealand of a man-made disaster - the global financial crisis - the Finance Minister found the road back to Budget surplus seriously obstructed by the huge spending demands imposed by the two earthquakes in Christchurch.
Now comes a drought which could seriously jeopardise tax revenue forecasts - and thus dent National's chances of reaching Budget surplus by 2015.
English cannot do very much about that. When it comes to the spending side of the equation, however, English has put a few markers in the ground to give everyone the message that while National may be the farmers' party, it will not be an easy touch when it comes to offering direct assistance.
There is, anyway, not a lot National can do to help farmers in production terms without that assistance being labelled a subsidy.
Declaring a region a drought zone triggers only limited assistance. Farmers will have to demonstrate real hardship to qualify for an emergency benefit or special needs grant.
Farmers can talk to Inland Revenue about delaying payment of things such as provisional tax. Along with professional counselling, they can get financial and management advice through the network of rural support trusts. And that is about it.
English stressed these "well-established" processes had been inherited from the previous Labour Administration. He declared the balance as "about right" in terms of whether there was too much or too little by way of assistance.
But there could be a long way to go. Farmers' plights are likely to get worse before they get better. Pressure for more assistance may intensify.
Most frustrating of all for English and his colleagues was that in its review of the state of the economy in February, the Treasury had felt confident enough to cautiously declare economic growth "appears to be picking up".
The drought has other ideas. English will need no reminder that the Treasury estimated the 2008 drought shaved half a percentage point off economic growth. That might not sound like much. But when the economy is growing by only 2 to 3 per cent a year, that is a major setback.